World Hindu Congress- A celebration of Hinduism and its core principles
By
Rasita
via Courtesy : myind.net published on September 15, 2018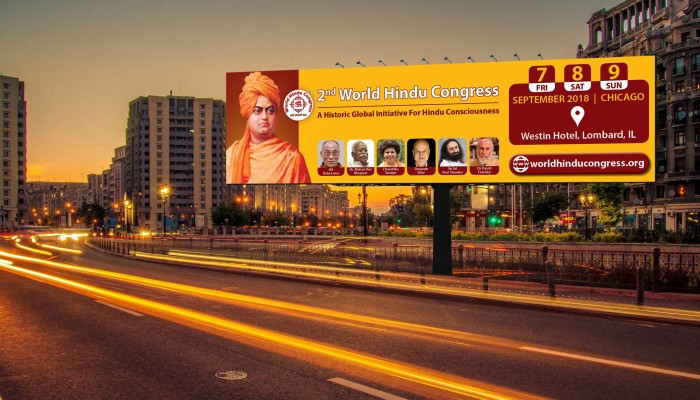 I was fortunate to attend the second World Hindu Congress (#WHC2018) which concluded recently in Chicago. The experience of being under the same roof with spiritual leaders, philosophers, trailblazers, industrial barons, activists, and delegates from across 60 countries was immersive.
The conference spread over three days (Sept7-9) had seven parallel forums on the economy, education, women, youth, media, politics, and temple organization apart from joint plenary sessions. Happening in the historic city of Chicago to commemorate the 125th year of the celebrated speech of Swami Vivekananda, the conference was a global gathering of Hindu minds. 'Sumantrite Suvikrante' which loosely translates to 'Think Collectively, Achieve Valiantly' was the underlying theme of this Congress. More than 2500 delegates and speakers from across 60 countries arrived in the 'Windy City' to celebrate Hinduism and its core principles.
As a part of the Women's Forum, I had the distinct advantage of listening to women from diverse backgrounds. The forum was split into six sessions and spread over two days. The panels had tracks on the economy, education, media & art, role of women in shaping society, a section on inspiring women and networking & concluding section. All the panels were well-thought out and had an interesting choice of speakers.
In the beginning, I was apprehensive as to the reasons for a separate forum on women, while they could have very well been a part of other forums. However, the ensuing discussions made me realize the importance of having an exclusive track for women to be recognized and celebrated among her companions. Listening to the journey of inspiring women and how they overcame several trials in their lives is in itself an empowering exercise.
Some of the outstanding women who addressed the forum shared stories of their everyday challenges. Their story is like our; it resounds and reverberates with all women. It tugs at our hearts and compels us to root for them. And, it makes us believe that we can do better in our lives and aspire to be like them.
Smt.Chandrika Tandon, the keynote speaker of the women forum, spoke of her conservative upbringing in Chennai, of how she broke barriers and pursued higher education and how she was picked up by a multi-national to head their overseas operations. She also spoke of her initial struggles in balancing work life and home. Her moment of epiphany happened when she was about to close a huge deal in Australia and was left wondering about her identity. The revelation that material possessions only did not define her led her in search for true self.  A corporate czar, philanthropist, and a Grammy-nominated artist with albums to her credit she embodies not only material success but also how one should strive to seek a higher purpose in life.
The young and articulate Dr. Somdutta Singh chaired the panel on women in the economy section. She is a successful serial entrepreneur, runs four companies and the youngest Co-Chair of NASSCOM Product Council. The panelists Dr.Toni Dasgupta, Meena Patel, and Dr.Nandini Tandon spoke of their childhood, corporate careers, working for large corporations and now running their enterprises. They gave valuable tips to women on financial security, how to be informed and to invest wisely. Dr.Tandon also spoke about the importance of encouraging women entrepreneurship and gave substantial leads to raise funding.
Prof.Anuradha of Illinois State University chaired the second session on education. The panelists were Padma Shri. Nivedita Bhide, Dr.Meena Chandawarkar and Dr.Vindhiya Vasini Persaud from Guyana. Nivedita 'didi' as she is fondly known, runs the Vivekananda Kendra in Kanyakumari. She is a decorated social worker dedicated to spreading the teachings of Swamiji. She has spent more than four decades of her life in this pursuit and continues to do so. Her life is an inspiring example of moral upliftment and detachment. Dr.Meena spoke of her experiences of running a Women's University in Karnataka and how she introduced various departments for training women. Dr.Vindhiya Vasini is a Member of Parliament from Guyana.  She is also the President of the Hindu Dharmic Sabha.  In her talk, she expressed the quiet strength of her ancestors, derived from religiously narrating the Ramayana and how despite being illiterate, ill-treated and insulted they continued to endeavor. She spoke of the history of Guyana and how her people came as indentured laborers and of their sufferings. The Indians in Guyana are now the sixth-seventh generation descendants, but they continue to hold on to their uniqueness and flourish. She also spoke of the need to keep our identity intact. Citing an example, of her name as a form of Durga, she implored people not to change their names to suit others fancy. Many like her, live in different parts of the world and belong to different nationalities, but they share a common heritage with us. They stand for us and our great culture & glorious tradition as espoused in our ancient texts. They need applause for holding on to their strength in vicissitudes and for their courage to march on with their heads held high.
The peerless Anupama Hoskere chaired my panel on Media and Art. She is an award-winning puppeteer artist who interprets her acts with stories from our Puranas. In my topic of discussion, "From social networks to collaborative networking" I covered the importance of creating a space for oneself if it is not readily available. The need to look for unusual allies, be it people or things to support the causes one believes in. I presented examples of Namo Bharathi, #ReadyToWait, # IndicAcademy, and how one can use social media as a positive force to run campaigns for dharmic causes. My co-panelist Yashica Singh runs a religious channel in South Africa. She spoke of the parallels in the history of nations like Africa, Guyana, Suriname, etc. where our forefathers were shipped as bonded laborers. Their travails of the past continue to persist as they face racism and other forms of persecution even today. She uses her channel and various other platforms like social media to challenge the atrocities meted out to women in her home country. She credits her resilience to carry on despite all odds as part of her grounding in Hindu practices. Prerna Lau Sian runs the political magazine 'Vaahan' in U.K. She spoke of how media bias towards Hindus in general and of her work to correct these distortions. Smt. Snehalatha was provided the floor to speak of her experiences as a homemaker in the U.S. She urged the women not to look at society in its entirety through the lens of media.
Smt. Alka Inamadar of Rashtriya Sevika Samiti was the chair for the panel on Hindu women in shaping the society. It was unfortunate that I jumped ship to catch on with a few friends and missed this all-important panel featuring Yogini Shambhavi, Madhu Kishwar, Amrita Tailor and Swamini Svatmavidyananda. I hope to watch the recorded session or hear from others who attended it.
The panel on 'Inspiring Hindu Women' was chaired by Smt. Chaaya Nanjappa, the founder of the well-known Nectar Fresh. This punch-out session starred an eclectic mix of speakers. Dr. Somdutta Singh shared her entrepreneurial journey of how she left for Bangalore to study, her picking up various skills like chocolate making, stitching, etc. that sustained her living while she studied without the support of her parents. Smt. Akila Ramaratinam of VHP, Australia spoke of her pioneering work of including Hindu education in mainstream academics in Australia. The daring skydiver Padma Shri awardee Shital Mahajan spoke of how her quest to do something unique for the country resulted in her actively taking up skydiving. She had the entire room lustily cheering for her as she spoke in her charming style about the battles she faced. Her numerous records are a testimony to her grit, perseverance and her immense love for the country. Smt.Vanathi Srinivasan of BJP, TN recounted her entry into student politics and how she continues to work for the party to succeed in Tamil Nadu. Smt.Laxmi Kanta Chawla, National Vice-President of BJP, was such a delight to listen. In her own inimitable fashion, she spoke of tearing down fences and enlisting as a student in a college which did not allow women. The anecdotes she shared covering the causes she took up had the room in splits.
The finale summary segment had all delegates and speakers of the forum come together and reminiscence on the learnings from the various sessions and the way forward. Valuable recommendations were provided, and a path of action will be outlined in the coming days. Overall, I must say it was a remarkable forum for women, and I feel blessed to have been a part of it. I hope I was able to offer a glimpse into one of the many amazing forums at the World Hindu Congress. I believe others will also share their learnings and experiences in other forums for the benefit of all.
In a famous Ted talk, musician Benjamin Zander speaks on the power of transformative teaching. "If their eyes are shining, you know you are doing it!" At the end of every session, my eyes were shining from the inspiration that filled my heart. I believe I can say the same of everyone who attended this conference. All our eyes are shining.
Welcome to Haindava Keralam! Register for Free or Login as a privileged HK member to enjoy auto-approval of your comments and to receive periodic updates.
Latest Articles from Bharath Focus