Before removing the idols, I should be removed; Two Kerala faces we should never forget
By
HK
published on November 14, 2019
On 23 December 1949, when the idols of Lord Ram were installed in the mosque, Prime Minister Jawaharlal Nehru asked the Chief Minister of Uttar Pradesh Govind Ballabh Pant to remove the idols immediately. The statues were ordered to be removed, but the District Magistrate KK Nair refused in carrying out this order, out of fear of stoking riots and hurting the feelings of Hindus.He there fore expressed ability."About the incident, Sharma writes in his book, 'When Nehru asked to remove the idols again, Nair wrote to the government saying that he should be removed from service before getting the idols removed."Before removing the idols, I should be removed."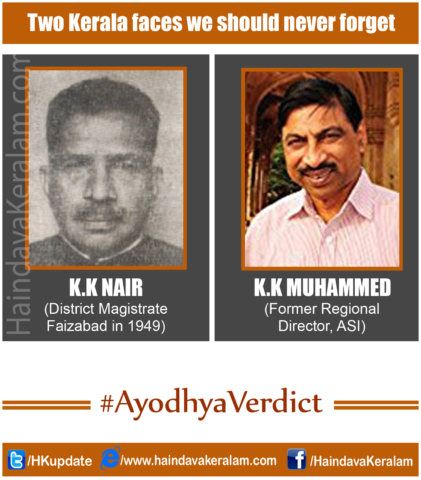 KK Nayar was 1930 batch ICS officer. he took voluntary retirement in 1952. He contested in the fourth Lok Sabha, with a ticket from Jan Sangh, from Bahraich seat in Uttar Pradesh. His wife Shakuntala Nair also reached Lok Sabha on three Jana Sangh tickets from Kaiserganj. Later his driver also became a member of Uttar Pradesh Legislative Assembly."
In the year 1949, on the midnight of 22 and 23 December, idols of Ramlala were found in Ayodhya. Some priests and devotees claimed that the idols "appeared" miraculously on their own inside the mosque, which was built on the site of a temple in 1539, by a military commander of Mughal king Babar. Chief Minister of United Province at the time was Govind Ballabh Pant, a veteran Congress leader.Three days after the appearance of the idols(on December 26), then PM Nehru shot off a telegram to GB Pant on Ayodhya dispute saying, "I am disturbed at the developments in Ayodhya. Earnestly hope you will personally interest yourself in this matter. Dangerous example being set there, which will have bad consequences." Also there are reports, which suggest that Nehru wrote a note directing state government to shift the idols of Ram Lalla and Sita out of Babri Masjid premises.
Nehru reiterated his concern in his letter to C Rajagopalachari, then Governor-General of India. "I wrote to Pantji last night, about Ayodhya and sent this letter with a person, who was going to Lucknow. Pantji telephoned me later. He said he was very worried and he was personally looking into this matter," read Nehru's letter, dated January 7, 1950.Another letter of Pandit Nehru (dated March 5, 1950) suggests that a directive to the Faizabad district administration, which apparently refused to comply with the directive. This letter was a reply to the one he received from celebrated Gandhian KG Mashruwala. Nehru wrote, "You refer to the Ayodhya mosque. This event occurred two or three months ago and I have been very gravely perturbed over it. The UP Government put up a brave show, but actually did little. Their District Officer in Faizabad [KK Nayar, ICS] rather misbehaved and took no steps to prevent this happening."Nayar was the district magistrate of Faizabad then. Ayodhya falls in the Faizabad district (incidentally, UP Chief Minister Yogi Adityanath has recently announced to rename Faizabad district as Ayodhya). Nayar defended his decision of not acting on a directive of the country's Prime Minister, which was routed through the state government. Nayar wrote a letter to the UP chief secretary saying, "I would, if the government decides to remove the idols at any cost, request that I be relieved and replaced by an officer, who may be able to see in the solution a merit which I cannot discern."
Nayar also claimed that removal of idols from the disputed site would cause widespread unrest and thereby sufferings, which might result in loss of many lives. Against this background, Nehru suggested that he was ready to visit Ayodhya. On February 5, 1950, Nehru, a self confessed athiest, wrote to Pant saying that the Ayodhya dispute might have a bearing on the rest of India, including Kashmir issue.
"I shall be glad, if you will keep me informed of the Ayodhya situation. As you know, I attached great importance to it and to its repercussions on all-India affairs and more especially Kashmir."
"I suggested to you when you were here last that, if necessary, I would go to Ayodhya. If you think this should be done. I shall try to find the date, although I am terribly busy," Nehru wrote. This visit never materialised and the gates of the Babari Masjid were locked to pacify the escalating communal tension in Ayodhya.
Welcome to Haindava Keralam! Register for Free or Login as a privileged HK member to enjoy auto-approval of your comments and to receive periodic updates.
Latest Articles from Bharath Focus