Apologize or Face the Consequences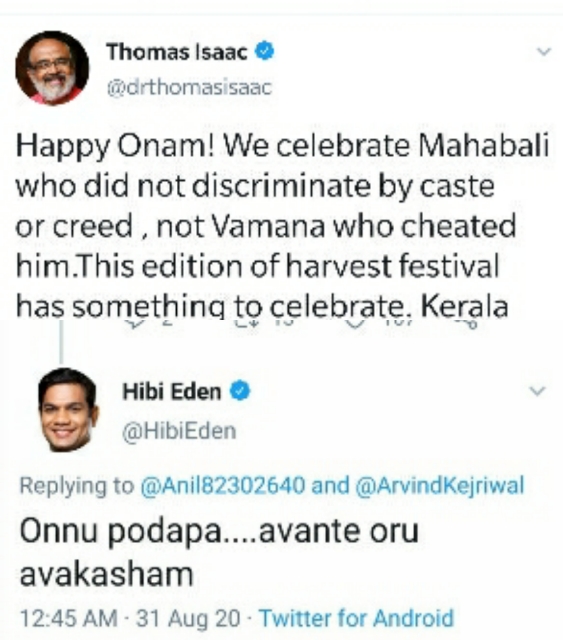 The tweets by Dr. Thomas Issac MLA and Mr. Hibi Eden MP denigrating Hindu God Vamana, the fifth Avtar of Lord Mahavishnu is highly deplorable, defamatory and communal.
These tweets, one by an MLA who is also holding such a high office as that of a minister in Kerala State and another one from an MP, is an outburst of their communal fervor and shows their religious intolerance. This simultaneous  Anti-Hindu utterance cannot be seen as a mere accident but a purported action to demoralise and defame the Hindu community. This shows the communal interplay beyond party politics when it comes to their religion. The tweet by Mr. Hibi Eden is an insult not only to Hindus but to all Malayalees as well.
This deliberate act by two people belonging to the Christian community needs a clarification from the Christian religious heads whether they approve of this act of denigrating a Hindu God. The CPI (M) and Congress parties to whom these electeted representatives belong, should also explain their stand on this issue as well as explain wether the action of their respective members is their political stand.
We would like to reiterate that Hindu community will not take such insults to the Hindu Gods, lying down, anymore and the frequent occurrences of such humiliating acts are looked upon very seriously. Both Dr. Thomas Issac and Mr. Hibi Eden should withdraw their tweets and apologize to the Hindu community immediately. Otherwise,  it may be noted that the Hindu community will have every right to proceed further in this matter, legally, socially and politically, to protect the dignity of our religion and safeguard our religious beliefs.
Welcome to Haindava Keralam! Register for Free or Login as a privileged HK member to enjoy auto-approval of your comments and to receive periodic updates.
Latest Articles from Divisive Agenda