In memory of Dr N Gopalakrishnan
published on April 28, 2023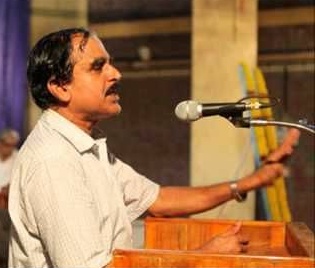 The late Dr. N Gopalakrishnan was a dedicated individual who devoted his life to serving the noble causes of Sanatana Dharma despite the challenging circumstances in Kerala. He has passed away and will be deeply missed.
https://twitter.com/HKupdate/status/1651632412877627425?t=9yjdGG4LRYvnrOOgvXYIiQ&s=19
During the launch of Haindavakeralam almost two decades ago, Dr. N G sent a note of blessing in which he provided valuable advice. We have strived to follow his guidance to the best of our abilities, and we believe that his message holds significance for all Hindu organizations
---
The Message
---
Most respected dear brothers
The venture is an excellent step forward for bringing the good and bad faced by the Hindus world over. It is our duty to convey how world over the hinduism is being accepted. In the same way it is our duty to see that how much atrocities are being faced by hindus in India and abroad.
Tell all our brothers to note what "I" HAVE DONE TO HINDU DHARMA tell them that they need not worry on what others are doing in favour or against hindu dharma. The duty , responsibility and previllege of each and every hindus on an individual basis is to be focussed.
Create three sakthies in each hindu Iccha sakti, Jnaana sakti and Kriyaa sakti for supporting , preserving, and propagating the Hindu dharma. Tell everyone that those who are involved in the mission should not expect garlands, ponnada or padmasree for looking after their mother and motherland.
Tell each and every hindu that they will have to perish by themselves, if they are not protecting themselves. dharmo rakshati rakshitha is the watch word of hindu dharma
Project only the Bharath and our hindu heritage and not the individuals who are working behind the Haindava Keralam.
I wish and pray and extend all my blessings for this great venture with an astoundingly noble goal, and very clear pathway. Let the motherland and lords of Bharath bless all of you. 3% of your time, 3 % of your monthly income and 3 % of your energy should be spent for hindu dharma
In the service of the motherland
Your family member
Welcome to Haindava Keralam! Register for Free or Login as a privileged HK member to enjoy auto-approval of your comments and to receive periodic updates.
Latest Articles from Dharma Smriti