Sabarimala Verdict – Ayyapa Seva Samajam to Fight Legally and Locally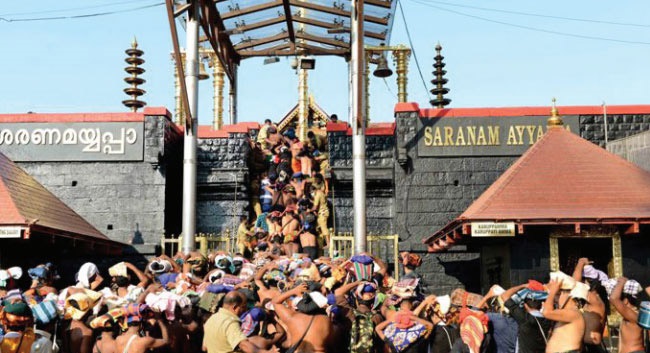 Crores of people of Hindu faith, especially devotees of Lord Sabarimala Ayyappa are unhappy in the unfortunate judgement pronounced on 28th September, 2018, by the Five-member Constitution Bench of Hon'ble Supreme Court, in the Petition filed by Young Lawyers Association, on "Restrictions in the entry of women under the age group of 10 to 50 years in Sabarimala". At the same time, we feel happy and respect the single lady judge in the Bench, Hon. Justice Indu Malhothra, who, understanding the sanctity of Sabarimala, expressed and recorded a different view in the judgement, touching the hearts of crores of devotees of Lord Ayyappa.
The judgement is unfortunate for various reasons: the Temple has been described as a Public Place; the Diety/Murthy, which has been worshipped as a Living God till now, has been considered as a mere non-living matter; further the Diety/Murthy can't be considered as an individual and has no Fundamental Rights under the Indian Constitution etc.Because of these various reasons, crores of people, irrespective of cast, creed, religion, and gender, have expressed Strong Protest not only in Kerala, but also throught the country. An atmosphere of Conflict and Separatism has been emerged, in place of peace and harmony, by the support of a minute minority of people, who has nothing to do with the Sabarimala Temple.
While respecting the Judgement of the Hon'ble Supreme Court, we wish to mention the judgement as Highly Unfortunate and we have decided to File a Review Petition in the Supreme Court soon, demanding:
1. To reconsider the judgement and
2. To allow a Stay Order from implementting the present judgement till a final decision is made in this matter by the Hon'ble Supreme Court and
3.To appoint a special commission to study this sensitive matter in detail.
Considering the heartburns, sorrow and unhappiness of crores of devotees of Lord Ayyappa, created by the unfortunate judgement mentioning that Sabarimala Temple as a Public Place and the Diety/Murthy is a mere non- living matter and has no Fundamental Rights, Sabarimala Ayyappa Seva Samajam has taken a decision to take appropriate legal actions and fight for justice and for preserving our rights and also to chalk out other types of actions, along with other like minded Hindu Organizations.
Welcome to Haindava Keralam! Register for Free or Login as a privileged HK member to enjoy auto-approval of your comments and to receive periodic updates.
Latest Articles from Bharath Focus