Sabarimala : Uphold the tradition
There is a deliberate attempt by vested interests to enforce  Abrahamic constructs of monoculturalism upon Hindus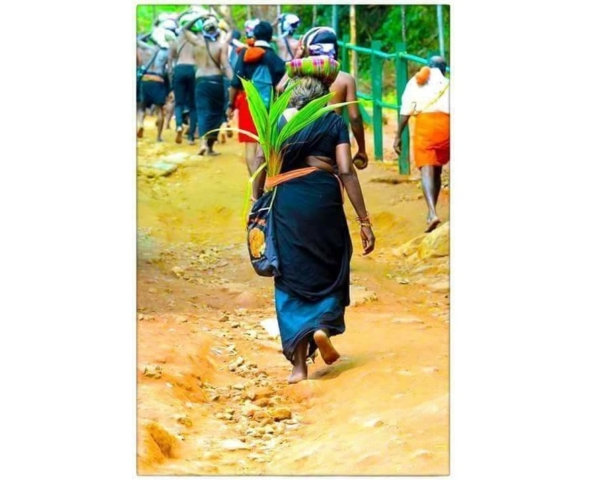 Recently, India celebrated the win of 2 Olympic medals. Many men sportingly accepted that women champions saved the country's face. Hypothetically, if the Olympic Games were organised in India during the NDA regime, Tripti Desai, the feminist crusader, would demand that men and women must play alongside each other in all sports disciplines. Going by the lady's idea of equality, that demand does not seem improbable. So, why are feminists trying to pass off inaccessibility of women to mosques as equivalent to restrictions on women to enter Sabarimala? There are more than 4,00,000 mosques in India but women cannot worship alongside men in any. Fighting for women's entry to one Haji Ali Dargah is not the same as entry to all mosques and dargahs. Meanwhile, even at a conservative estimate, there are 6,00,000 temples across India. Except for Sabarimala, no other temple stands out for restricting entry to women. The portrayal of Haji Ali and Sabarimala as furthering similar discriminatory practices is unpardonable.
There is a deliberate attempt by vested interests to enforce Western and Abrahamic constructs of monoculturalism (and monotheism) upon Hindus. Alien concepts of equality aim to end plurality in Indian society, while ignoring inequalities in their own societies.
If it is unfair to even compare traditions within the Hindu society, 'activists' are creating a false equivalence between Hindu and Abrahamic traditions only to paint Hindu society as regressive. Hence, debates boil down to what the 'scripture' ordains. Strict adherence to a particular scripture is foreign to the Hindu psyche. The Vedas don't talk about idol worship. Yet, most Hindus are idol worshipers. Hinduism is an umbrella for co-existing philosophies, God-forms and faith-systems, governed by different traditions and rituals meant to seek God. But, the debate on equality has no space for the Hindu faith. So much for equality!
While Hindu society is held guilty of injustice in a non-existent dimension of gender equality, feminists have failed miserably to secure much-needed justice for Muslim women. In January 2016, Muslim women petitioned the Supreme Court that mosques receiving government aid violate both the Indian Constitution and the Quran by prohibiting women's entry. The excuse given by Muslim leaders in favour of discrimination is that women can distract male devotees by their proximity!
But, they have latched onto one Hindu shrine claiming the violation of women's rights because it applies restrictions to women. Sabarimala devotees have to observe dietary rules and rituals for forty one days before proceeding on a grueling trek to the shrine. Women of menstruating age are not allowed for this reason. Before dismissing the practices around menstruation as superstition, feminists must study the science behind temple architecture and energies and its impact on menstruating women. Interestingly, progressive Hindu women have no problem in waiting for the prescribed age to undertake the 'vrata'. If there were restrictions for women at all temples including other Ayyappa temples, Hindu society could have been accused of discrimination. But there are no restrictions. Hence, scores of women are participating in the #RightToWait campaign. Then, why is a handful fighting against the rules of one shrine? Who are they?
Hindu traditions nurture every individual – man and woman. For every Sabarimala, there is a Melmarvathur temple, a Mannarasala, a Pongal ritual, where women perform temple rituals. By playing divisive games, aren't feminists inviting men to fight for space in women-dominated temples? What then of our diversity and celebration of gender?
Social justice is very important but demanding equality without context dilutes genuine fights for justice. Hindu society was not a rights-based society because social justice was inherent in its structure. Every individual believed that their responsibility to society preceded their exercise of rights. That made our society great. Anomalies have crept in due to various factors and Hindu society must reclaim its greatness.
We, especially women, must reclaim what is lost by standing up for tradition and exposing vested interests. Today, Sabarimala has been made the centre of the battle. What better way to win that battle than by upholding tradition and asserting the right to wait to visit Sabarimala!
Welcome to Haindava Keralam! Register for Free or Login as a privileged HK member to enjoy auto-approval of your comments and to receive periodic updates.
Latest Articles from Bharath Focus