Indian Talent in Top 3 in US National Geographic Bee champ
via www.us.rediff.com published on May 26, 2006
May 25, 2006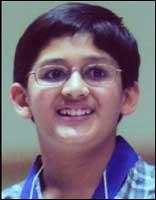 I f he could push a magic button,
Bonny Jain
, who has
won
the 2006 National Geographic Bee and a $25,000 scholarship prize, would travel to Greece tomorrow. "It is the place I really, really want to go," he says.
The other things he would love to do are — Study the ruins and learn about Greece's classical tradition. And hold a huge party in his hometown Moline in Illinois.
But the 12-year-old super achiever says that he has some serious business to take care before the big party: He has to prepare for next week's Scripps National Spelling Bee. Last year he had ranked 24th in that contest.

"Now I feel like I am a very different person," he says, reminding me that he had been placed fourth in the Geographic Bee last year among the 50 contestants from nationwide in grades four through eight. "If I have reached this position, I am sure I can dream of a top prize at the Spelling Bee, too."

Whatever happens at the Spelling Bee, he says there will be "a very big party" for his friends, classmates and teachers. And when he gets home he would hug the books including the atlases, maps, and currency bills from various countries that his parents have given him over the years.
The collection and his intense preparation — which over the weekend involved more than four hours a day — helped him race ahead of the 54 contestants in the first round this year. Not to forget the quizzes his parents set up for him.
"I was just about five years old when I received a dictionary from my parents that also had flags of different countries," he says. "In no time I got interested in far-flung places. I also started reading books about countries and looking at maps." But many other things fascinated him apart from places — what people in other parts of the world ate, for instance.
Though the formal party will have to wait till the Scripps National Spelling Bee is over on May 31, Bonny surely can treat his father Rohit, his mother Beena, and his 5-year-old sister Riya in Washington DC. Not to forget his teacher Kelly Mulcahy who also accompanied the Jain family to DC.
Bonny is also thrilled that he has become a role model.
"When I first watched the tapes of earlier contests and looked at the questions, I thought they were insanely hard," he says

chuckling. "And imagine where I am today."
The top finalists were also Indian Americans:
Neeraj S Sirdeshmukh
, 14, of Nashua, New Hampshire, who dreams of becoming secretary general of the United Nations. He took home $10,000, which like the three scholarship prizes is meant for college education.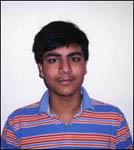 Yeshwanth R Kandimalla
, 13, of Marietta, Georgia, received $5,000. "Being in the competition and being a finalist has given me a perspective on how hard work can really do something for you," Yeshwanth said. "I want to study economics and I want to be a banker."
In addition, there were two other Indian Americans in the top 10 —
Suneil K Iyer
, 11, of Kansas;
Krishnan V Chandra
, 13, of Andover, Massachusetts.
Born in Kota, Rajasthan, Bonny, who was about three years old when he moved to America with his parents, has already decided where he wants to study for a professional degree. "It is MIT," he says breathlessly. He wants to be a physicist and is also seriously interested in languages. In another interview, he said he wanted to be a cultural anthropologist.
"I am studying German and Spanish. I speak in Hindi with my grandparents and occasionally with my parents, too," says Bonny who can also write Hindi.

He readily admits that there were several times he felt nervous during the contest but not when he wrote Cambrian, an answer that broke the tie. He was responding to: "Name the mountains that extend across much of Wales from the Irish Sea to the Bristol Channel."

"When faced with a choice, I think of the options in my mind and quickly decide on the one that seems surging," he says.

Among the moments, he felt was nervous was when the Jeopardy! gameshow host Alex Trebek who emceed the national contest asked him to name a tribe that had signed a peace pact with Niger over a decade ago.

"I was really nervous," he says, adding that he wrestled between Tuareg and Fulani. "I then quickly let the names roam in my mind and Tuareg surged."

Being focused on where you want to reach is a very serious part of the business, he says, and his parents always encouraged him to set goals for himself.

Bonny, who is featured in the soon to be televised documentary Road to the Geo Bee , is not only focused but also has a lot of humility, teacher Kelly Mulcahy says. She told a local radio station in Illinois that when she talked to Bonny right after last year's bee, she found him getting ready for the 2006 contest.

"He said he was really happy because he could come back and try again," she said. "He also admitted he didn't know some of the answers the last three competitors were asked."

Preparing for the Geographic Bee means much more than knowing world capitals, names of various tribes and historic landmarks and crucial dates, Bonny feels. For over the years the questions have also been involving analogies. This year for instance, there was this question: "Urdu is to Pakistan as Sinhalese is to what?"

What are some of the memories he will be taking home?

"It is the whole thing about meeting likeminded people," he says.

Is he conscious of some people ready to drub the Bee winners as nerds.

"I have a lot of fun," he says chuckling. "I play tennis, and I love to travel."

"And in preparing for this competition, while there was a lot of hard work and tension, there was also a lot of fun."
Photograph: National Spelling Bee web site
Welcome to Haindava Keralam! Register for Free or Login as a privileged HK member to enjoy auto-approval of your comments and to receive periodic updates.
Latest Articles from World Focus