Eminent Hindu Warrior, Dr Babu Suseelan Passes Away
By
HK
published on June 10, 2019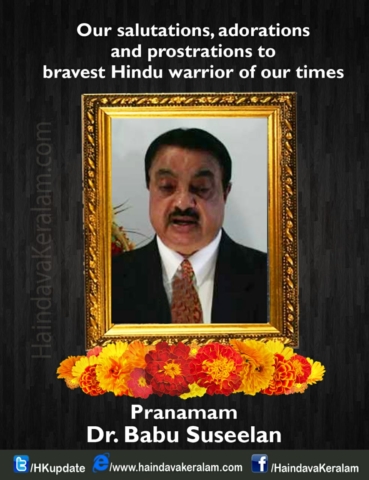 It's with great grief we share the news of Dr Babu Suseelan ji's demise

Known for his vehement opposition against global jihad much before socialmedia platforms get popular,he didn't minced his words when it comes 2 enemies of Bharat

HK's inspiring & guiding force is no more pic.twitter.com/6wFFw0H6vQ

— HKupdate (@HKupdate) June 7, 2019
At a time when Malayali Hindus residing in USA shied away from voicing anything even remotely related to Hindutva, Dr Babu Susheelan made an indelible mark by making bold utterances about Sanatana Dharma, it's veracity, greatness and divinity at every possible occasion and platform on the American soil. Dr Babu Susheelan had carved a niche for himself by resorting to extreme fortitude when it came to any bold articulation on Sanatana Dharma and sharp criticism against those who voiced against it. In fact those who had donned the secular garb found it most difficult refute or combat his views.
And for these very reasons, Many in America had bestowed upon him, the synonym of hard- core, fundamentalist Hindu. However, Dr Babu Susheelan had never felt the need in altering these appellations. Instead he plunged into all kinds of activities that served in strengthening the cause he had undertaken.
Having placed the Rashtreeya Swayamsevak Sangh at the loftiest of places in his very being, Dr Babu Susheelan served as Bauddhik Pramukh of Sangh, amongst other positions and responsibilities. During the agitation in Ayodhya, he had undertaken and spearheaded various activities of Viswa Hindu Parishad as well.
Babu Suseelan, also served as the Director of Indian American Intellectuals Forum, New York. Chairperson of The Interfaith Coalition, New York. Dr.Babu Suseelan's career has included as a University Professor, Psychologist, Addiction Treatment and Criminogenic Specialist. He is the author of several published articles on Hinduism, Jihad, Islamic terrorism, Criminal Mind and Cognitive Restructuring.
Dr Babu Suseelan was not only a regular columnist for Haindava Keralam but our source of inspiration and guidance.
Welcome to Haindava Keralam! Register for Free or Login as a privileged HK member to enjoy auto-approval of your comments and to receive periodic updates.
Latest Articles from World Focus