Hare Krishna chants reverberated in London streets
published on June 21, 2010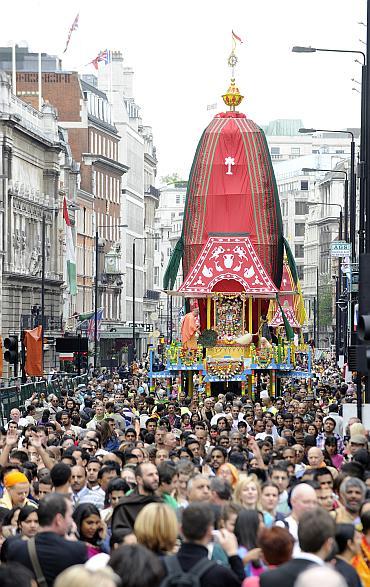 Thousands of pilgrims and faith leaders from all over the world participated in the London  Rath-yatra, festival of chariots, on Sunday evening as the city was illuminated by wonderful colours and sounds of the annual Hare Krishna Festival.
The devotees pulled three 40-foot high colourful chariots carrying the sacred deities of Lord Jagannatha, Lady Subhadra and Lord Balarama from Hyde Park to Trafalgar Square. The giant chariots were accompanied by a procession of singers, musicians and dancers. At Trafalgar Square, where the procession concluded, thousands of people had gathered to witness cultural and educational displays and exhibitions linked to the Rath-yatra.
Read Full Report at
http://news.rediff.com/report/2010/jun/21/thousands-participate-in-london-rath-yatra.htm
Welcome to Haindava Keralam! Register for Free or Login as a privileged HK member to enjoy auto-approval of your comments and to receive periodic updates.
Latest Articles from World Focus