Elevation of BL Santhosh And New Role: Greater Hopes for Kerala's Saffron Fraternity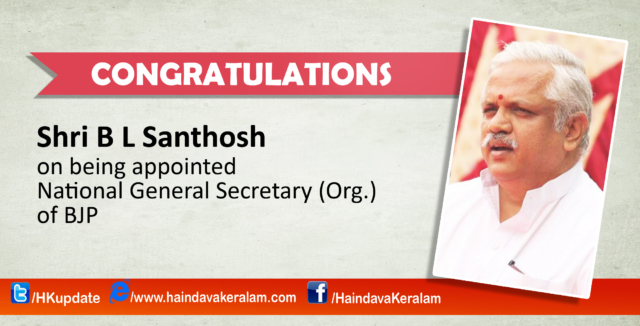 The Bharatiya Janata Party has elevated BL Santhosh to the post of General Secretary (org). He takes the reins from Ramlal, who served as BJP's General Secretary (organisation) for 13 years.Santhosh had served as joint general secretary for five years before his elevation to the current post. A native of Karnataka, he has had a key role in the formation of BJP's first government in southern India — in Karnataka, in 2008.BL Santhosh has been in charge of the party's activities from national level and giving concentration in south India since 2014, in the most fruitful and positive manner. There have been far reaching outcomes under his watchful leadership and guidance in Kerala, including Sabarimala agitation against incumbent Communist government in Kerala.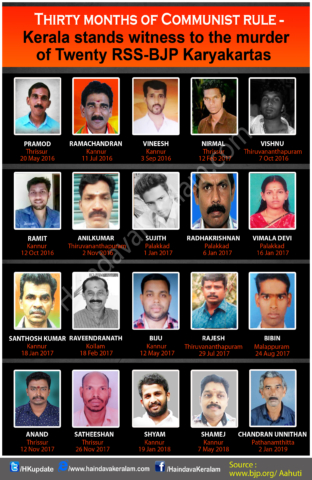 Leftists, following the assuming of power under Pinarayi Vijayan, had unleashed a spate of violence against RSS-BJP members, murdering over twenty karyakartas.The horror angle reaching its pinnacle and scores of Karyakartas being murdered, maimed and tortured in a very short span of time. However, after assuming charge of BJP's Kerala faction, Santhosh embarked on framing a unique strategy. It successfully brought to a halt of numerous and frequent instances of Marxist violence. Santhosh's multi-pronged strategy, among other elements, included complete documentation of balidanis (martyrs of BJP-RSS), who were brutally murdered by Communist butchers. A team comprising of techies brought out Aahuti, an extensive document that exposed the facade, ripping their semblance off, before the entire nation. The release of Aahuti was rendered by Prime Minister Narendra Modi on 25 September 2016, giving it nationwide promotion.Aahuti's translation into Gujarati, Hindi, Malayalam and Marathi added greater impetus to the campaign exposing Communist brutality all over India.Truth pertaining to the sacrifice of Kerala Balidanis echoed in the Parliament House, with Lok Sabha MP Meenakshi Lekhi and others raising the issue several times, shredding bare the atrocities of Communists. For the first time in the history of the nation, the sacred walls of Indian Parliament echoed with the traumatic description of the helpless screams of the hapless nationalist victims.
Aahuti – The untold stories of sacrifices of nationalists in Kerala. Download E-Book at https://t.co/N5kK5itzNx pic.twitter.com/rDDFiMmO2t

— BJP (@BJP4India) October 18, 2016
Santhosh also schematized a Jana Raksha Yatra in 2017,that commenced from Payyannur, Kannur district. It was yet another aspect of the multi-pronged strategy carved out by him, based on the vision envisaged by BJP president Amit Shah. Coupled with the high esteem and popularity commanded by former BJP state president Kummanam Rajashekharan, Jana Raksha Yatra exposed Communist and Jihadi brutality in total, in every nook and corner of the state, district by district. The yatra has been attended by national leaders of BJP and Chief Ministers of BJP-ruled states including Late Manohar Parrikar, Shivraj Singh Chouhan,, Shanavas Hussain, VK Singh, Ananth Kumar, Yogi Adityanath, Rajvarthan Singh Rathode,Meenakshi Lekhi, Dharmendra Pradhan,Smriti Irani, Kailas Vijayavargiya, Mahesh Sharma, Arjun Meghwal, Susheel Kumar Modi, Dr. Anirban Banerjee have all been part of Jana Raksha Yatra, in various part of the state.Jan Raksha Yatra, which covered 10 KM on a daily basis,  successfully exposed Jihadi-Leftist malignancy that has gripped Kerala. Their slogan "all have the rights to live" reverberated all over Kerala, infuriating the Marxist party leadership, the Kannur faction.While mainstream media has always striven to hush up and distort Communist violence of Kerala, the tireless efforts and relentless campaigns of the party machinery has borne richest of dividends. The mass that thronged alongside Jana Raksha Yatra even in red bastions like Kannur, is inevitable testimony to the growing faith people of Kerala have imposed in the nationalist party that stands at the helm today.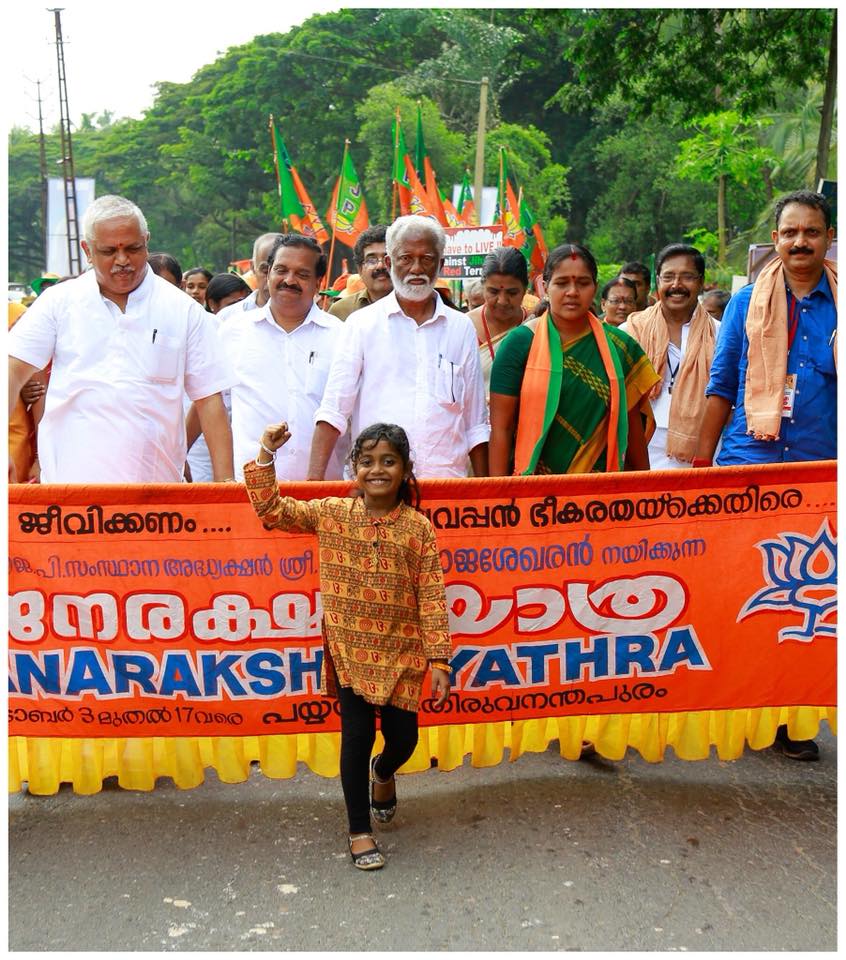 With political violence in Kerala having witnessed sizeable reduction, the enraged communist govt turned to the sacred Hindu temple of Sabarimala. With anything Hindu being anathema for Communists, the ruling Left sought to defile the temple, tarnishing it's age old sanctimonious beliefs. They formulated  a well planned deceptive agenda with the sole aim of sabotaging the pilgrimage towards the sacred shrine, following the verdict pronounced by Supreme Court, on the entry of women into the temple. And soon, when the nation a spate of perennial agitations in lieu of the Sabarimala issue, aimed at protection of religious sentiments of millions of Ayyappa devotees, Kerala police, with ample support from the ruling Left government, fabricated charges against BJP-RSS karyakarthas, ensuring that they are piled up, against each of them.Police charged more than two hundred cases against BJP state General Secretary K Surendran alone, in various police stations across the state.Here too, under BL Santhosh's initiative, successful plans were chartered, ensuring that the matter was taken up at organizational level. In fact, every single message at ground level was always successfully conveyed to senior leaders of RSS and BJP. This led to utter failure on part of the Left government in executing their nefarious agenda in outraging the sanctity of the temple and in containing the violence that engulfed the state thereafter.
Some people ask me will it not be contempt if we criticise Supreme Court judgement on Sabarimala …. When a judge on the very same bench has given a diverging opinion how am I at fault if I criticise the majority judgement … ?? #ReadytoWait #Sabarimalaverdict 1/2

— B L Santhosh (@blsanthosh) October 1, 2018
BL Santhosh was also one of the chief coordinators of several rescue and relief activities during the time of the devastating floods that struck Kerala in 2018. He tirelessly strove to lend support to the victims, arranging transportation of flood relief materials from neighboring states and expediting the process of rescue and rehabilitation.
Indeed a mammoth achievement for BJP in Kerala, which still continues to remain under the clutches of Communism, the chapter was well executed by Santhosh, who stands well aware about the potentials of his political party and it's leaders in Kerala. Being familiar with every single level in the organization's heirarchy, Santhosh is more than confident when it comes to expecting more than positive signs in the footprint of the saffron organization in Kerala.A chemical engineer by profession and gold medalist in academic, Santhosh is  a polyglot, fluent in Kannada, Tamil, Telugu, Hindi and English. Armed with a sense of rationale  and reasoning skills, BL Santhosh's elevation as General Secretary (org.) of BJP has opened ample expectations for saffron fraternity in Kerala.
Welcome to Haindava Keralam! Register for Free or Login as a privileged HK member to enjoy auto-approval of your comments and to receive periodic updates.
Latest Articles from Bharath Focus