ISIS recruitment to #ModiAssassinationPlot ;The Sorrow of 'God's Own Country'
Kerala is no doubt lush and green geographically. But the place has undoubtedly been a fostering ground for some of the most skilled anti-national and terror activists of India. In what can be termed as the latest feather in the state's terror cap, Kerala born ultra-Left ideologue Rona Wilson was arrested for spearheading a plot to assassinate Prime Minister Narendra Modi. And so being harbor for an amalgam of various types of terror modules, Kerala can hardly be 'God's Own Country' any more.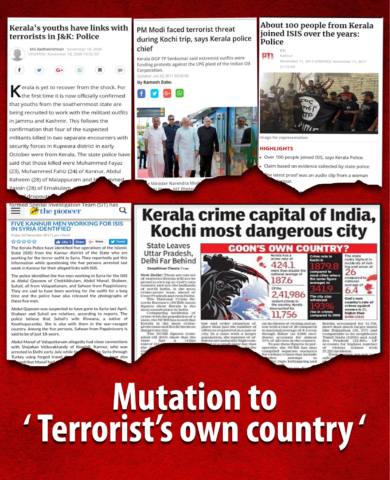 It was in 2014, during the Lok Sabha election rally in Kerala's Kasargode that Narendra Modi, Chief Minister of Gujarat then, made a statement regarding terror activities being nurtured in God's Own Country. His words "Kerala had the potential to become a tourism hub but has been converted into a nursery of terrorism," is nothing but bitter horrifying truth. Umpteen reports, including the latest, related to extremism and terrorism, substantiate his revelation. Recent arrests by Maharashtra police unearthed a plot, which had sought the assassination of Prime Minister Narendra Modi. News reports reveal that the Kerala link- Rona Wilson, the prime accused, is a native of Kerala.
Incidentally, this is not the first time Kerala has been linked to Narendra Modi's security threat. Another terror threat had loomed large during his visit to Kerala in 2017, for the flagging off of the maiden run of Kochi Metro Rail. The Prime Minister's convoy route was lined by a huge, unwieldy mob on the previous day of his visit. People hailing from Puthuvype, a coastal hamlet on the outskirts of the city had gathered en masse, protesting against an LPG gas plant being built in the area. According to reports which had appeared in newspapers, police had to resort to force for removing protestors, who had organized a sit-on-the road protest.It was then that former DGP TP Sen Kumar, who was in charge, spoke of "There was a big threat perception here on the day of the Prime Minister's visit.. There was a terror module here during his visit. extremist outfits, which were funding these protests against installation of LPG plant of Indian Oil Corporation." He had also hinted how there was intelligence information about a terror module that was active and on large. The statements made by the former police chief were part of his justification in clamping down the huge mob. The recent arrest of Rona Wilson and his Kerala connections, no doubt validate the statements of TP Sen Kumar. However, this is not the first time Kerala has been linked to the assassination plots of Narendra Modi. Pranesh Pillai, who had converted to Islam and assumed the identity of Javed Ghulam Sheikh, was one of the group members, who was gunned down in an encounter in Gujarat, way back in 2004. A native of Kerala, he was one of the members of the notorious Ishrat Jahan gang. According to intelligence reports, Ishrat Jahan and her associates were Lashkar-e-Taiba (LeT) operatives, who were assigned the task of assassinating Modi, who was Chief Minister of Gujarat then.
Left Wing Extremism (LWE) has always been a major threat to India's national security, occupying its place in India as the fourth most deadly terror outfit, after Taliban, ISIS and Boko Haram. The Narendra Modi led government has spared no efforts in tackling them headon, after assuming office in 2014. Stringent action has also been initiated against Maoists and Naxals in the last couple of years, especially in the country's northern region, where threat of Leftist groups stands high. The result of these crackdown operations started showing results when incidents of violence came down to a threefigure number in 2017. This was the first of its kind in a decade. With this, the nation witnessed the migration of the LWE to the southern parts of India, including Kerala. Recently, the Union Home Ministry added three districts of Kerala to Maoist watch-list.
The Left fraternity in Kerala has always followed the 'nip in the bud' policy to challenge political opponents. Most of their 'violence politics' agenda expose how they choose their victim- mostly bright, resourceful personalities, who have ample dedication in spearheading the nationalistic movement efficiently and proactively. They are selected and eliminated at very young ages. The challenge being faced by nationalistic organizations including BJP in southern parts of India, especially in Kerala, where Communist parties have a fortitudinous grip, is the murderous politics being practiced by leftist political organizations. Central leadership of BJP and RSS have been resorting to various necessary initiatives in nabbing the Left intolerance, in democratic ways.
Amongst those numerous initiatives taken by BJP has been the release of Aahuti, a book that details the martyrdom and sacrifices of BJP-RSS activists of Kerala. The book was released on 25 September 2016 at the party's national executive meeting in Kozhikode by Prime Minister Narendra Modi, in the presence of other senior leaders. The Prime Minister pointed out in clear terms that "violence, as a way, is undemocratic", "which should never be resorted to", "just because one fails to tow in line with the ideology of another political faction". 'Aahuti', originally written in English was translated into many languages like Malayalam, Hindi, Gujarati and Marati. The clarion call given by Narendra Modi, "urging karyakartas not to treat Aahuti as just another book you received during your stay in Kerala. Instead Aahuti should be debated upon and contemplated over, in all states of Bharat, so that the voice (of those who have been wronged) reach Delhi." This led to a spate of further activities.
When Modi thundered about "the helpless cries of Kerala's karyakartas" probably "not reaching Delhi", scores of RSS-BJP karyakartas across the country decided to further the cause. They actively sought to conduct mass agitations in various part of the country, against the widely exposed Leftist Terror in Kerala.In lower house and upper house of parliament of India,Lok Sabha MP Meenakshi Lekhi and Rajya Sabha MP Vinay Sahasrabuddhe raised the issue of Balidanis, of how they have been victims of political vengeance. The issue has been raised in Parliament several times. Thus the Communists and their politics of murder and the other methods of brutality they resorted to for doing away with political opponents, was exposed before the entire nation.It was the first time in the history of India, that the sacred walls of Parliament House echoed with vivid narratives that exposed to the world outside, the helpless cries of hapless nationalist victims.
https://www.youtube.com/watch?v=tYl0rX2pvdI
Subsequently BJP conducted an awareness rally throughout Kerala named 'Jana Raksha Yathra', against the 'Red Terror' of CPM and 'Pro-Jihadi' stand taken by different political organizations. Thousands of people from various walks of life joined BJP's peaceful remonstrative march, which was led by former BJP president of Kerala, Kummanam Rajasekharan. The yatra, conceived under the guidance of BJP president Amit Shah and Party in Charge of state and National Joint Gen. Sec.(Org.) BL Santhosh, spanned across the length and breadth of the state, touching all districts. Several national leaders and central ministers pledged their active presence and participation in the agitation. The outcome was stupendous with the Communist fraternity visibly upset over their true visage being exposed so bluntly, that too on a national scale. Thus, witnessed a diminution in political killing and violence in the state.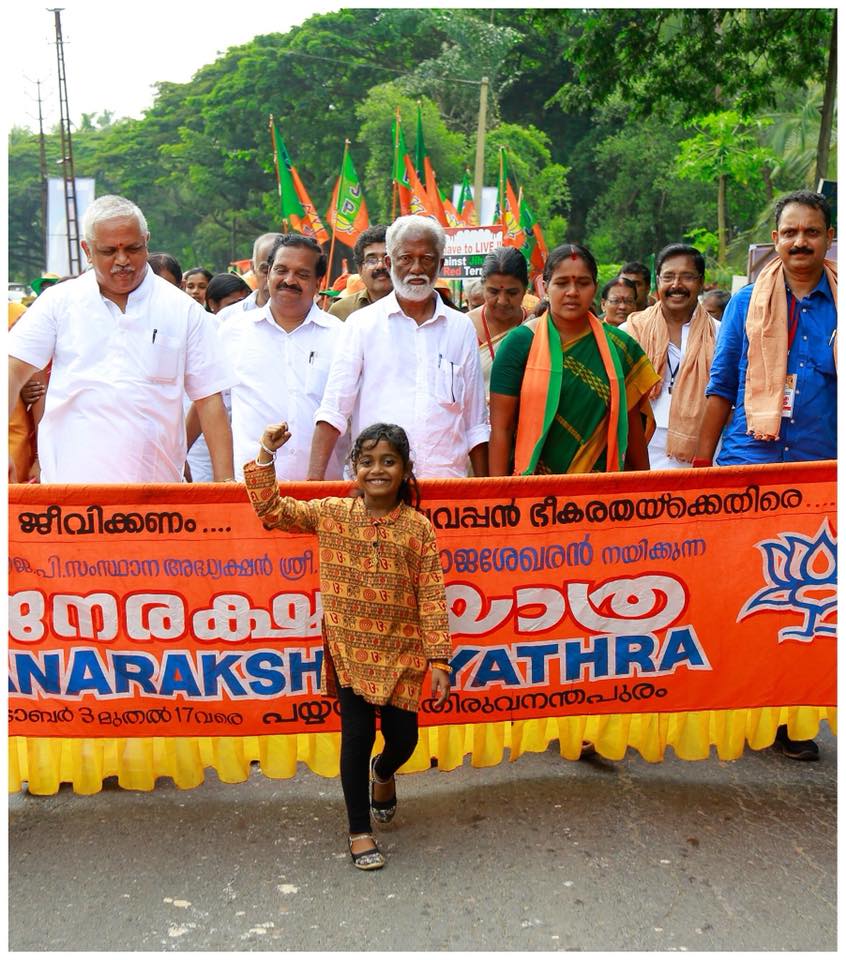 Along with Left and ultra Left extremism, Islamist terror groups and organizations have a luxurious base in Kerala. One sees frequent reports flying in, about how Malayalis are recruited en masse, for furthering the nefarious activities of the deadly ISIS. Scores of Malayalis are believed to pledge their services to the radical Islamist group ISIS, in brief span of four years, with scores of them being killed in various parts of Iran, Syria and other gulf regions. This, according to reports, is the largest recruitment that has taken place in any Indian state. Also majority of such cases are reported to have taken place in Kannur district. In the words of Communist fraternity, Kannur is their 'stronghold'. Along with joining ISIS, Kerala also holds the distinction of having the largest number of casualties, amongst the people having joined the dreaded terror module. Reports have also pointed out to obvious cases where girls of non-Muslim background are converted from their religion and made to join ISIS. The IS modules have their henchmen here, who use the bait and strategy of romance to exploit love, lure and convert, in such cases.
The ill-famed 'Love Jihad' cases have been primarily reported from Kerala, there prosecution case was that the accused persons, Popular Front of India and Social Democratic Party of India activists, had organized an arms training camp at Narath in Kannur on April 23, 2013.Another case pertaining to IS training camp is currently underway, with NIA having submitted charge sheets in the Court. In October 2016, following a tip off from intelligence agencies, NIA busted an IS module that had gathered for secret meetings at Kanakamala in Kannur. The group was planning to carry out attacks in various parts of Kerala and Tamil Nadu including mosques, temples and churches. It had also planned to attack police officers, High Court judges and BJP leaders.Popular Front of India, predominantly working in Kerala has allegedly been accused in various cases of murder and extremist activities- these being of murders that have taken place not only in Kerala but also in neighboring states of Karnataka and Tamilnadu.
https://www.youtube.com/watch?v=RMlkZvmyL64
Yet another serious security threat, being faced by Kerala, is that the large presence of illegal migrants. A major security challenge, there is an unprecedented upsurge of illegal immigrants from Bangladesh, who cunningly use migrant tag, in order to settle in Kerala, after obtaining fake IDs. With the number getting out of hand, security agencies have started sending smoke signals to political masters, with many officers fearing that illegal immigrants could pose greater threat than Maoists.
Another cause for alarm and apprehension is largescale presence of counterfeit and fake notes in the state. According to reports, Directorate of Revenue Intelligence has unearthed cash worth Rs 1000 crore from the state in the last 15 years. Majority of such notes are reportedly printed in Pakistan.The actual amount of undetected counterfeit currency could be multifold, of the unearthed amount. The latest report compiled by crime record bureau of various states, shows that this tiny state of Kerala stands third, in number of cases related to counterfeit currencies.In 2017, the Cochin NIA court ordered rigorous imprisonment to six accused in the case related to seizure of counterfeit currency from WB at Manjeri in 2012. Mohammed Ashraful,wanted in a case of trafficking of Fake Indian Currency Notes (FICN) has been arrested by NIA officials from West Bengal's Malda area last year.he was wanted in a case registered initially by the Kerala Police pertaining to the seizure of high quality FICN.Most of the accused in such cases are hailing from Malda,border of Bangladesh. Reports state that Department of Revenue Intelligence, Customs and Central Excise had intercepted a container in Cochin, which had arrived from Dubai,in 2009. It was suspected to be carrying counterfeit currency notes.Sources in DRI spoke to Rediff news agency about intercepting the container after having received tip offs from reliable persons. Recently A Suresh, personal assistant of former Chief Minister of Kerala VS Achuthanandan made a startling revelation in his Facebook post, about two containers filled with fake currency notes having reached the industrial capital of Kerala. The post says about the state intelligence wing having intimated Achuthananandan and his home minister Kodiyeri Balakrishnan, who currently holds position of party secretary in the state.
Kerala has alternately been ruled by Communist and Congress alliances for several decades. Both alliances shirk away their share in contributing to the utterly perilous condition of the state. Recently, Kerala Chief Minister Pinarayi Vijayan waxed eloquence in the state Assembly about Islamic extremism in the state. Former Chief Minister VS Achuthanandan also remarked that "Islamic outfit PFI was pumping money into luring youth to Islamic fold and persuading them to marry Muslim women. Their strategy to make Muslims a majority community in Kerala… In 20 years, they want to make Kerala a Muslim majority state," he said.
https://www.youtube.com/watch?v=BUT5gSoNQqk
In 2012, former Kerala Chief Minister Oommen Chandy informed the state legislature that 2667 young women were converted to Islam in the state since 2006. In 2003, former Chief Minister of Kerala A K Antony had made a remark on "minorities in Kerala" being "powerfully organized". Antony had said that "they have secured more privileges and benefits from Government, through collective bargaining. Unlike the rest of India, minority communities here dominate the state's political and administrative echelons. It cannot be allowed." Inspite of having made these statements, Communist and Congress leaders seemed to be endlessly pledged in support towards extremist activities and appeasement policies, for the mere gaining of political mileage. Kerala Assembly consisting the Communists and Congress representatives unanimously passed the resolution seeking release of terror accused Abdul Nasser Madani, accused in the conspiracy of Coimbatore blast case. The SIT has argued that the blast was part of a conspiracy to eliminate Home Minister LK Advani during his visit to Coimbatore on the same day. Later, Pinarayi Vijayan was publically seen sharing the stage with him, with the Leftist fraternity joining hands with his political party during election time. Madani was again arrested in connection with Bangalore blast. But this has not deterred Kerala's Congress-Communist leaders from travelling all the way to Bengalore and visiting him.Former Vice President Hamid Ansari attended an event in Kozhikode last year, co-organized by National Women's Front (NWF), the women's wing of Popular Front of India. PFI stands accused in many extremist activities, with their activities being under close scrutiny by various security agencies. Leafing through the pages of recent history, investigations and enquiry commission reports revealed the involvement of major political party activists in Marad Massacre, Punthura and Pathanamthitta communal riot etc.
Recently, Kerala has witnessed widespread violence unleashed by Islamic fundamentalist in the name of Kathua incident. Police arrested hundreds of people from the state, for being directly involved in violence. Even more appalling is that those arrested belonged to various major political parties. It only cements the widely known open secret that Congress and Communist party members have been joining hands with extremist elements. Muslim league, an ally partner of Congress has made their demand clear, of dividing Kerala and making a separate state based in Malabar region. Communist party had formed the Malappuram district in early sixties, accepting the demand of Muslim League. IUML was an alliance partner of Communist party lead front, those days. According to the latest census, Malappuram is highest populated district in Kerala.What more, CPM independent leader and minister in the present Kerala ministry KT Jaleel, is allegedly a former SIMI leader. As per the affidavit submitted by PFI to Kerala High Court, many former SIMI activists are now holding lucrative positions in various major political parties in Kerala, including Jaleel.
Once, Swami Vivekananda had spoken on Kerala as a 'lunatic asylum'. However, the relentless work rendered by great social reformers of the land like Sree Narayana Guru, Chattampi Swamikal, Mahatma Ayyankali etc have turned the land to 'God's Own Country'. Now the state is facing the blemish of being a 'Nursery of Terrorism'. In spite of there being multitudinous attempts and initiatives towards restoring the erstwhile glory and pride of Kerala in its real sense, by various personalities, in group and individual level, Communist and Congress fraternity of the land term these as 'AntiKerala Movement'. These people are the ones who hold the sole prerogative of the perilous scenario today, ensuring that any constructive move is barbarously stomped down. But the Karmic cycle will ensure that the birth land of Adi Shankara will definitely undergo a rejuvenation process, with the cultural glory and heritage of the land reinstated back. Therefore sure, will be renaissance of 'God's Own Country', undeniably in the near future.
Welcome to Haindava Keralam! Register for Free or Login as a privileged HK member to enjoy auto-approval of your comments and to receive periodic updates.
Latest Articles from Bharath Focus