North-east shuts down demanding Bangladeshis' exi
published on September 6, 2012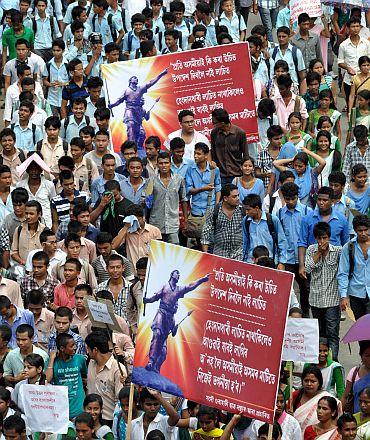 The North East Students' Organisation, the banner organisation of all the influential students unions in the seven north-eastern states, on Thursday shut down the region demanding detection and deportation of illegal Bangladeshi migrants from the region.
In a surged atmosphere that reminded one of anti-illegal migrants' agitation in Assam during early 1980s, thousands of people from all over the region and various ethnic communities and students stormed the streets in Guwahati demanding deportation of all illegal migrants from Bangladesh who have come to the state after 1971 as per the Assam Accord
The agitators took out a procession along the main thoroughfare in the city under heavy security arrangement the district administration, which was bent upon keeping the procession peaceful and thwarting any attempt by vested forces to create trouble.
NESO adviser Dr Samujjal Bhattacharyya said that five other N-E states — Meghalaya, Manipur, Nagaland, Arunachal Pradesh Mizoram and tribal-dominated areas of Tripura –have been shut down in response to the region-wide bandh called by the NESO.
He informed that representatives of all the NESO constituents from Nagaland, Manipur, Tripura, Mizoram, Meghalaya, Arunachal Pradesh and members of All Assam Students Union have come to join force to the NESO-led agitation against illegal migration from Bangladesh.
Read full Report @
http://www.rediff.com/news/report/north-east-shuts-down-demanding-bangladeshis-exit/20120906.htm?utm_source=twitterfeed&utm_medium=twitter
Welcome to Haindava Keralam! Register for Free or Login as a privileged HK member to enjoy auto-approval of your comments and to receive periodic updates.
Latest Articles from Bharath Focus