Muslim girls seek Police protection from Leftist Thugs – Why no Media Trial?
via Courtesy - Janam TV and Janmabhumi published on October 18, 2015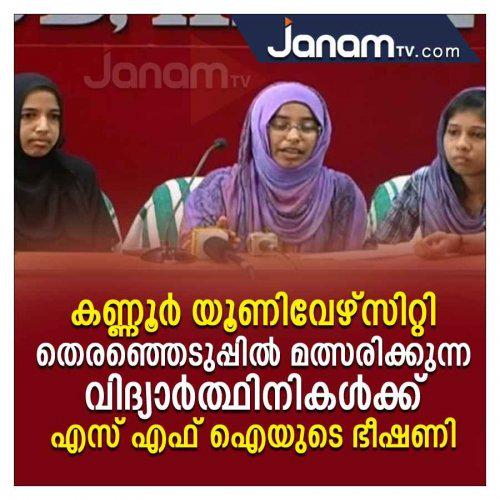 Kannur: The SFI and DYFI have issued death threats to the four Muslim girl candidates who have decided to contest in the Kannur University elections. According to the students, the Marxist goons are said to have stated that "the place is Kannur and the village happens to be a party (CPM) hamlet and that these students who contested separately would meet the fate of slain leader TP Chandrashekharan."
"Every year, the SFI declares their candidates as winners. However, this year when we decided to deviate from the routine practice, they grew furious. The nominations for posts of chair person, magazine editor, fine arts secretary, UUC etc have been filed with police protection," said the candidates at a recently conducted press conference.
Apart from these death threats the Marxist goons also said to have indulged in "registering hoax cases against these candidates by alleging that they were involved in ragging junior students, calling out caste names in public and there by deriding the morale of these candidates, using profane language to women candidates who were dressed in jeans, getting them evicted from their rented homes, along with a whole set of devious tactics." They are also said to have promised to shoulder the year's study fee, if the candidates withdrew their candidature.
"Those who have resorted to issuing death threats are Ajin, Vijin Lal, Swaroop, Jithin, Prashob, Anil, former chairman Suresh, other committee members and an entire gang of SFI-DYFI activists who have been imported from outside. They have been constantly engaged in verbal abuse of extreme profanity. On top of this, they have resorted to manhandling and snatching the head scarf" said the candidates.
The students also said that the Head of Journalism department, a guest lecturer had tendered his resignation owing to the annoyance of left wing Fascism.
Those candidates who have been threatened are independents and MCJ candidates, their names being P Jasla, PK Fanusha, TP Sumayya Beevi and Najiya Gafoor.
Welcome to Haindava Keralam! Register for Free or Login as a privileged HK member to enjoy auto-approval of your comments and to receive periodic updates.
Latest Articles from Bharath Focus