International Islamic College coming near Tirupati after encroaching land belonging to Vishnu temple
published on September 18, 2013
After we received an email from different sources indicating that Heera International Islamic University is being built near Tirupathi with pictures of seven storied construction and the architect's view of the University building, we have approached a number of our friends and other leaders in Tirupathi and Hyderabad to investigate the accuracy of the location and the status of the building.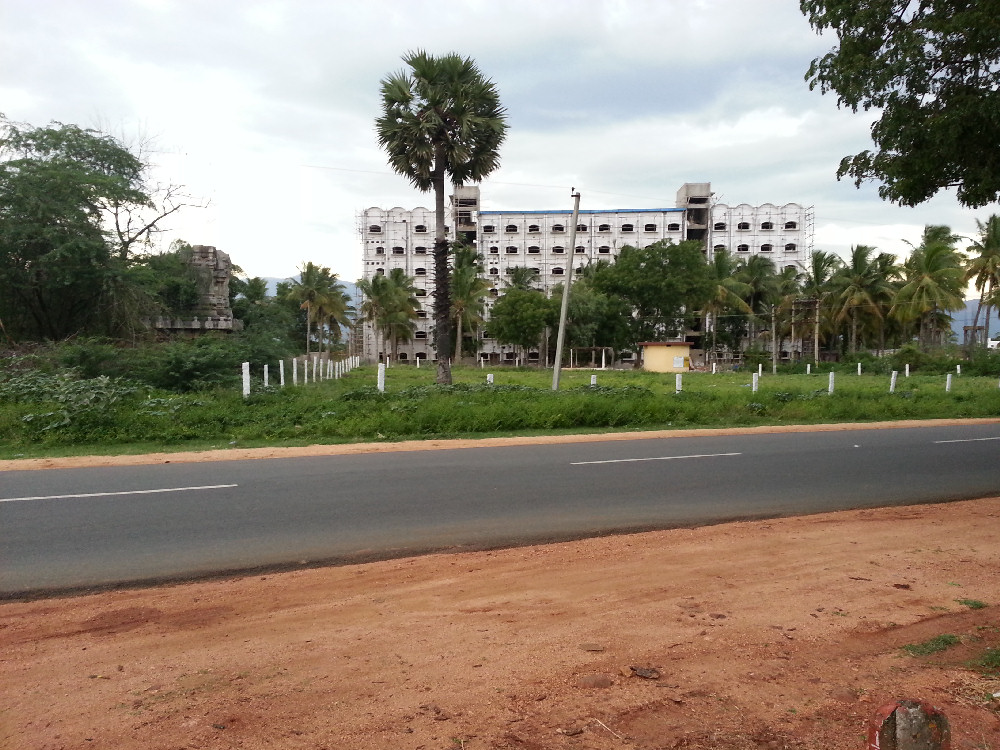 Global Hindu Heritage Foundation (GHHF) was able to get about ten pictures of the building and the nearby places. Many of our friends have been trying to find out the sinister plans of starting Islamic College near Tirupathi.  Following information is being provide for your purview
1. The seven layer/storied building is being constructed in Chandragiri village which is about 13 kilometers from Tirupathi.
2. There is big sign posted on the main road to indicate that it is the home of "Heera International Islamic College (HIIC)." On the same sign board it is written "Women Arabic College."
3. Down below the sign board, on the ground there is a sign "Swarnamukhi River Rejuvenation Project." The name Chandragiri is also printed on the sign board.
4. HIIC is being built approximately in a seven-acre lot. It appears that this land is parceled into few pieces of lots.
5. It is noted that this land was acquired in 2007. Research is ongoing for the authenticity as well as the circumstances under which this land was acquired.
6. This land belonged to a VISHNU Temple, known as Timmappa Temple, with a very tall Rajagopuram according to the villagers. They were in dilapidated condition for many years.
7. We have taken TEN new pictures to indicate that they are building the HIIC in the Vishnu Temple complex. The pictures indicate the dilapidated Rajagopuram on the left side (Westside of the building).
8. It appears that HIIC never got permission to start the college. No permission was granted before they started the construction.
9. Tirupati Urban Development Authority (TUDA) area includes 70 kilometers radius from Tirupathi. Chandragiri is only 13 kilometers from Tirupati. Any construction in Chandragiri should have the prior approval from TUDA. No such permission was granted to start this construction.
10. According to TUDA zonal rules no permission to construct any building can be granted, if it has more than five layer/stories plus stilt.
11. It appears that a letter was sent to the Special officer in Collector's Office to grant approval for permission for construction, which is totally against the Zonal rules.
12. Villagers in the area feel that some local politicians are behind this idea of constructing an Islamic College at this location.
13. Villagers feel that Vishnu Temple land is illegally occupied by HIIC and building is being constructed illegally.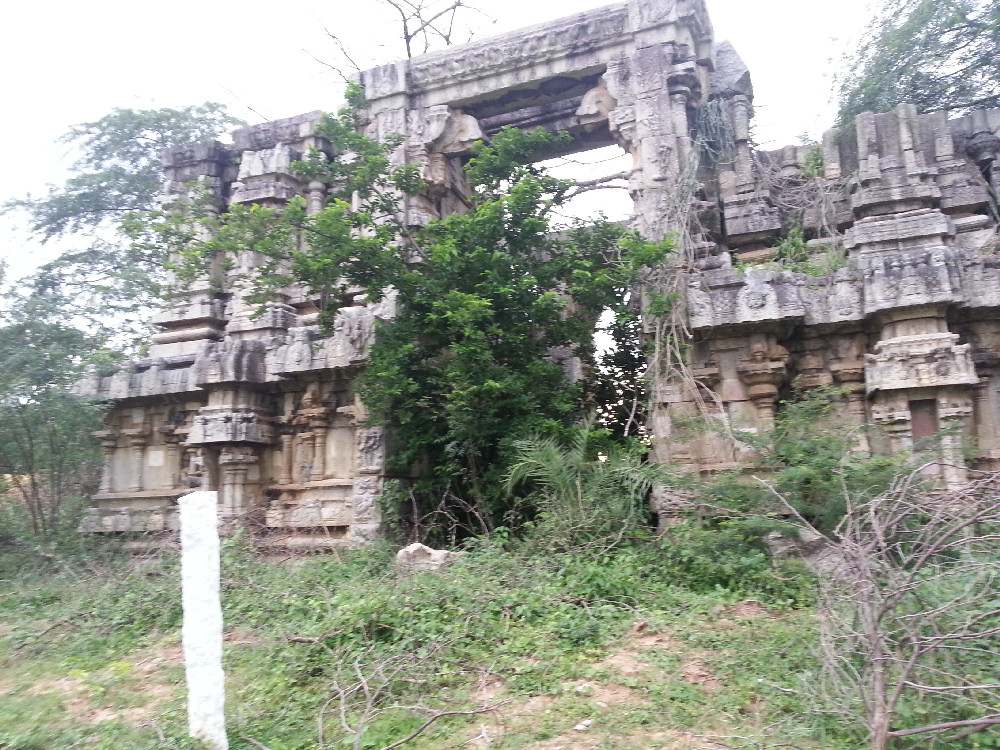 Why near Tirupathi ?
Is there a plan to silence the bells and stop the aarathi at Lord Venkateswara Temple ? Is there a plan to keep buying lands as close to Balaji Temple as possible to start Minarets with high volume loud speakers announcing that "Allah is great." Do you think that it is a far-fetched imagination ?
Please take a look at few examples of the recent times
1. The present government has asked some Temples in old Hyderabad to stop aarathi and also stop ringing the temple bells as the Muslims celebrate Eid.
2. Swami Paripoornananda was asked not to visit the Bhagya Lakshmi Temple because Muslims may be upset. He was arrested and taken in a car to have darshan only from the police car; never allowed him to get down and go to the Temple.
3. In Hyderabad, the Hanuman Temple was desecrated by throwing Beef into the Temple compound and splashing the green color water on the walls to create animosity in the community.
4. Akbaruddi Owaisi made a statement to remove the Bhagya Lakshmi Temple from the premises of Charminar in the old city. He even made a blood thirsty pronouncement that "We are 25 crores, you are 100 crores. Remove the police for 15 minutes and we will show you who has more courage and strength."
Now you can imagine what they might do at this Holy place for Hindus!
1. For many years the Christians and Muslims have been eyeing on Tirupathi to make it their place of worship. For the last ten centuries Muslims have targeted the most auspicious places where Hindu Temples were located. They have a history of occupying, and destroying Hindu Temples and rebuild Mosques either on Top of the demolished Temples or next to these Temples because their religion teaches them to dispel Idol worshippers.
2. The Muslims headed by Ms. Aalima Shaikh Nowhera started this HIIC to provocate, demean and destroy, over a period of time, the most scared places for Hindus. Once they start this College, they will start expanding to places as close to Lord Venkateswara Temple as possible and create terror and rampage in the villages, the techniques they have perfected over the centuries.
3. Why not Hyderabad ? Chandragiri village where this HIIC is being built has less than .05 percent Muslim population. Chittoor district, where Tirupathi and Chandragiri are located, has about 9 percent Muslim population. Hyderabad city has about 40 percent Muslim population. It is only natural to think that an institution like HIIC should have been built near Hyderabad or some other major city in India.
Few examples of the possible Evil Plans at Tirupathi
1. Christians under the leadership of the then Chief Minister of Andhra Pradesh Mr. Y S Rajasekhara Reddy had devised a plan to break up the seven hills, make five hills as the property of the State and eventually convert it into a Christian property to build Mega churches next to Balaji Temple. In 2004 it was announced that the five hills would be taken over by the government for converting them into a picnic spot with multiplexes, food courts, commercial lots, sports centers and entertainment infrastructures including a rope-way to reach the top of the hills. The whole objective was to destroy the Hindu culture and convert Hindus into the Christian faith with malice, incentives, deception, allurement and lying.
2. Christian propaganda on Tirumala Hills has been continuing for years, with distributing the Christian pamphlets to the pilgrims on the hill and trying to convert them to Christianity. Even today no body knows how many Christians are employed. Even with a strict ordinance for TTD against the employment of other religious people, they get employment with false statements and deceptive arsenal they have in their hands.
3. Now, Muslims have joined the bandwagon to continue their unfinished business of converting Bharath into an Islamic State.
Approached Political and Community Leaders
We tried to approach different community leaders and politicians of different parties – Congress, BJP and TDP. We could not reach any Congress leader so far. TDP representative asked us to approach the concerned minister.
We were able to talk to NVSS Prabhakar, BJP leader who also started investigating the matter. He had a news conference on Friday (12th). He questioned the motive behind the construction of HIIC. He even traced the history of religious activities of Christians and Muslims in and around Tirupathi for the past ten years and their attempt to take over the Temple property and their missionary activities. More details will be forthcoming.

Who is building the Islamic University ?
Ms. Aalima Shaikh Nowhera, Heera Group is a Global Fortune Company with business in the commodity as well as educational chain. The first Muslim woman of India to lead a company, Ms Shaikh is a renowned entrepreneur. It is a business conglomerate in various economics fields.
She even received an award from Indian Economic Development and Research Association for attending a seminar on "Outstanding Achievements and National Development" in July 2013.
Website of Heera Group : http://www.heeraibg.com
Website of HIIC : http://www.heerauniversity.com
Facebook:Â  https://www.facebook.com/nowherashaik

Read detailed report @ Source : Save Temples
Welcome to Haindava Keralam! Register for Free or Login as a privileged HK member to enjoy auto-approval of your comments and to receive periodic updates.
Latest Articles from Bharath Focus