Fact Finding Report on the Kathua Incident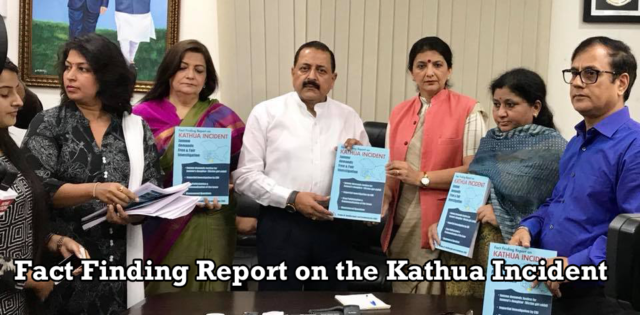 A team of five eminent persons conducted a study on the Kathua Incident and brought out a report with true facts about the alleged rape and murder of an eight year old girl child belonging to the backward community in District Kathua, Jammu & Kashmir.
The fact finding team was composed of (1) Retired District Judge, (2) Advocate, Supreme Court, (3) Senior journalist, (4) Assistant Professor and (5) Social Activist, whose whereabouts are available in the attached report.
The Kathua Incident happened between January 10 and January 17, 2018 and came into limelight in March – April 2018. As the media picked up this incident, the discussions acquired communal colour. The team observed a flagrant violation of law in the reporting of this incident in the media.
Please download and read the complete Fact Finding Report on the Kathua Incident PDF
The report was handed over to Union Minister Dr Jitendra Singh in New Delhi on Friday, May 4, 2018.
Welcome to Haindava Keralam! Register for Free or Login as a privileged HK member to enjoy auto-approval of your comments and to receive periodic updates.
Latest Articles from Bharath Focus