Doctorji -The Man Who Shaped RSS
via By Dipin Damodharan published on March 31, 2011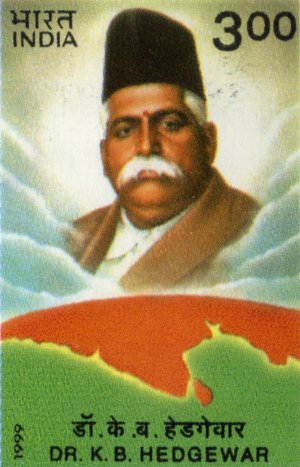 We have been blessed with a perennial tradition of dedicated national leaders who sacrificed every thing for the nation and society. Dr Keshav Rao Beliram Hedgewar (Doctorji) was such a bravura leader. Hedgewar was a pure nationalist; his magnanimous life had only one aim – the liberation of Bharat from the invaders. He realized that the only way to liberate Bharat from the British rule was to reorganize the Hindu Samaj; this was the aim behind the formation of Rashtriya Swayamsevak Sangh (RSS). The organization (RSS) started with only five members at Nagpur on the Vijay Dashmi day of 1925, has now spread its influence into every aspect of India's civil society. The four other persons present at the occasion were Dr B S Moonje, Dr L V Paranjape, Dr B B Thalkar and Babarao Savarkar.
Keshav was born to Baliram Pandh and Revathi Bhai on April 1, 1889, in Nagpur. In his schooldays he was rusticated from the school for leading the Vandemataram movement. After completing the school education, Keshav was inspired by Moonje, his political guru, to join the National Medical College Calcutta. There he got associated with Anushilan Samiti, the revolutionary organization in Bengal, and participated in their activities.
After completing his education Doctorji returned to Nagpur and started to practice his profession, but soon abandoned it for fulltime political activities.
He entered in the Congress politics as a solid follower of Bal Gangadhar Tilak and joined in the central provinces. Doctorji participated in the non cooperation movement and was sentenced to rigorous imprisonment for one year. The consequences of the movement profoundly disillusioned him. Hedgewar regretted that Indian Muslims had proved themselves Muslims first and Indians only secondarily. When the khilafat demand was given up in Turkey, they withdraw from the national movement.
Doctorji believed that Bharat was a mighty and prosperous nation long before recorded history. Due to the lack of national consciousness and awful habits like hatred, jealousy, and selfishness, the Hindus succumbed to the invaders. Hence Doctorji thought that an anti- British struggle would not be enough for Bharat's problems. The sovereign panacea was the arousal of national consciousness and building up of national solidarity. The dawn of RSS (September 27, 1925) in Indian history is to achieve this aim, to unify and revitalize Hindu Samaj and to establish a strong Hindu Rashtra. The supreme goal of RSS is to achieve the all round glory and greatness of Bharatmaa.
The achievement of Param Vaibhav – the pinnacle of national glory- is the ultimate aim of the Sangh. Therefore the RSS is engaged in awakening and organizing the people of Bharat by instilling in them intense national consciousness and character as a spirit of discipline and dedication to high national values. Sangh's concept of nation is cultural but culture is all comprehensive, all embracing and all absorbing. Culture encompasses every aspect of national life.
Mahatma Gandhi visited the Wardha camp (near Sevagram) of RSS in 1934. Gandhi was astonished to see that during lunch or dinner there was no separate queue for the so called untouchables. Many swayamsevaks even didn't know the caste of person beside them. When Gandhi surprised of this miracle, Doctorji replied, here there is no space for caste division, here all are Bharatis. Dr Ambedkar also visited the camp and was amazed by the simplicity with which casteism was replaced by unity and equality.
Doctorji's organizational skill, missionary zeal and perseverance helped the RSS to grow considerably in a short period. By 1940, when Doctorji died, the RSS had a nationwide presence except in Assam, Orrissa, and Kashmir. "I see before my eyes today a miniature of Hindu Rashtra, Doctorji said in his last speech to the trainees of 1940 Nagpur Officers Training Camp (OTC).
Welcome to Haindava Keralam! Register for Free or Login as a privileged HK member to enjoy auto-approval of your comments and to receive periodic updates.
Latest Articles from Bharath Focus