Day2 #FutureBharath ; Our Constitution is the Outcome of Collective Consciousness: Dr Mohan Bhagwat
Our Constitution is the outcome of collective consciousness: Dr Mohan Bhagwat "Women are equal partners in nation building" "Hindutvais essentially all-inclusive. It will be the basis of a strong and prosperous Bharat"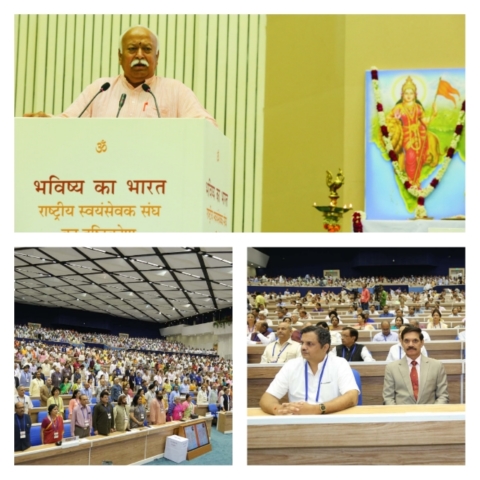 Rashtriya Swayamsevak Sangh Sarsanghchalak Dr. Mohan Bhagwat today elaborated on the concept of Hindutvawhile presenting the RSS's future vision during his address on the second day of the three-day lecture series on topic 'Future of Bharat: An RSS Vision' at the Vigyan Bhawan. A galaxy of eminent personalities attended the event.
"The Sangh's aim is to build an able society that embodies equality and is free from exploitation," Dr. Bhagwat said.
"Bharat is a democratic nation and we respect all symbols of democracy. The Constitution of India is one of the prime symbols of democracy, because it is the outcome of collective consciousness," he said, while reading out emphatically from the Preamble.
"The Hindu dharma is actually a universal dharma, based on humanity as a whole. We have never considered ourselves different from the entire world. 'Vasudhaiva kutumbakam' is the basis of Hindutva," he said. Hindutva is simply the concept of universal brotherhood.
"There are three fundamentals of Hindutva, they are patriotism, ancestral pride and culture," he said.
"The word 'Hindu' is derived from abroad. We don't get this word in ancient Indian texts. Acharya Mahavir Prasad Dwivedi wrote that when Zoroaster reached Persia, he was asked about his identity. He replied that he came from the lands of Sindhu. In Persian, 'Sa' becomes 'Ha', hence Sindhu became Hindu. As we had trade relations with Israel, the word 'Hindu' reached the Jews. Through the seas, the word reached our western coast, and from there entered into our intellectual space. In 9th century, it reached our texts but never in our colloquial language."
"When invaders began attacking the diverse belief systems they grouped them as 'Hindu'and began converting them. It was then that the word 'Hindu' entered colloquial language."
"We refer to Hindutva as a value system. There are those who prefer to call it 'Indic', others call it 'Bharatiya' – we accept all terminologies."
"What is called as Hinduism today, is actually not the same as the religion of Hindus. There exists no specific Hindu 'shastra' because they were composed before the word Hindu became prevalent. Our ancient scriptures are meant for everyone, not limited to a few."
"We believe that Bharat is not merely a geographical term because the geography of Bharat has been changing. Bharat is the name of a disposition whose crux is clearly explained by the word Hindu. Hence Sangh is insistent on using the word Hindu."
"While speaking in Parliament about Hindu Code Bill, Dr. Ambedkar asked what is a religion? A value or a code? You consider it as a code or as a religion? A code changes but not values. Our perspective towards dharma is that it is made of values. "
"Hindutva is essentially all-inclusive. It will be the basis of a strong and prosperous Bharat.Hindutva is a balance between the interests of everyone, a belief that welfare of all is the welfare of individuals and welfare of individuals is the welfare of all. Living life with this discipline is Hindutva. It is the collective wisdom of all the sects originating out of India. That is why we say ours is a Hindu rashtra," he said. "Hindu rashtra does not mean that it has no place for Muslims. The day it is said that Muslims are unwanted here, the concept of Hindutva will cease to be. Hindutva believes that the world is a family," he stated.
"The image of Bharat is that we accept and welcome all the diversities, it is the global Dharma that was nurtured here. Bharat is trustee for all this knowledge and has given it to the world from time to time."
POLITICS
Dr. Mohan Bhagwat specifically addressed the oft-asked question about Sangh and politics. "There are questions regarding the political ambitions of the Sangh. Right from inception, the Sangh had taken a conscious decision to stay away from electoral politics. No office bearer of the Sangh is allowed to be a member of any political party and will stay away from politics," he said.
He emphasized that the Sangh focuses on man-making (vyaktinirman), but does not dictate what a swayamsevak will do in his social life. Swayamsevaks take various programs which are for society's benefit into their hands. They execute according to their own capabilities and preferences while in dialogue with the organization.
"It is not our concern as to why other political parties don't have large number of Swayamsevaks. Why don't they feel like going to other parties, is the question they need to think on. We don't ask the Swayamsevaks to work for any specific party," he stated.
"Swayamsevaks have freedom to follow their conscience. The influence of RSS increases due to its social work but we don't specifically work towards increasing our influence. It happens by itself."
Referring to speculations of Sangh influence in politics and governance, he said "We don't presume to give directions to political leaders. We don't give them any advice either, unless asked. Only because they are acquaintances we meet them but we don't influence their government or policies."
"Though we stay away from politics, we do have views regarding national policies and if we have the strength, we pursue those policies with that strength. And we don't do it secretly but in full public attention," he said.
WOMEN
Once again speaking on the issue of women in the society, DrBhagwat said women are equal stakeholders in social life and hence should be treated accordingly. "In fact, in some fields, women are more capable than men."
"Women and men complement each other. For nation building, it is imperative that both function in cohesion and shoulder the responsibilities together. It is our belief that from decision making to execution, they are equal partners," he said.
Welcome to Haindava Keralam! Register for Free or Login as a privileged HK member to enjoy auto-approval of your comments and to receive periodic updates.
Latest Articles from Bharath Focus