Amma inspires M.A.M to take up cleaning of schools and public place
via http://www.amritapuri.org/10476/clean-place.aum published on September 25, 2010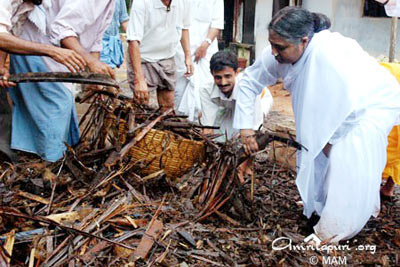 Amritapuri, September 22nd, 2010
(Mata Amritanandamayi Devi) said that the Mata Amritanandamayi Math is ready to take up the responsibility of cleaning schools and public places all over India if it has the support and co-operation of state governments and other organizations. "It is said that India is growing, that it is developing. However, in matters of environmental cleanliness and hygiene, we are lagging behind a lot. The lack of cleanliness in our roads and public bathrooms and toilets is proof of this," said Amma.
Western countries maintain high standards of cleanliness on roads, in public places as well as in public bathrooms and toilets. In contrast, the standard of cleanliness in roads and public toilets in India is appalling. It has become a habit for people to urinate by roadsides and to spit on public roads and pavements. Even if there are waste bins present, they are not in the habit of disposing litter and food waste in these bins; they discard them by the side of the road or even in the middle of the road. Environmental cleanliness and hygiene are a part of development and cultural refinement. For this to happen, we need to plan widespread awareness campaigns. We should mount enough signboards on environmental cleanliness in public places, bus stands and roadsides.
Amma also stressed that the sincere support and co-operation of the television and print media are vital for the success of this mission. She said that the MAM is ready to construct public toilets in schools and public places if state governments, school management committees and local people collaborate.
This project will be implemented through proper blueprints, planning and the co-operation of students and the general public.
This project will be initiated in Kerala. Thereafter, it will be implemented gradually in other states of India.
Welcome to Haindava Keralam! Register for Free or Login as a privileged HK member to enjoy auto-approval of your comments and to receive periodic updates.
Latest Articles from Bharath Focus