Trespasser's will be manhandled inside the Church; Polite Notice of a Priest who 'Owns' Arabian sea
via HK published on May 2, 2015
Kollam: The episode of fishermen hailing from Karunagappally, Kollam being attacked in mid-sea by fellow Christian fishermen and being made hostage in a coastal area church has taken a grim turn. The incident took place after the local Christian priestly class placed restrictive sanctions on fishermen from other religious communities from fishing in the area or doing their daily business.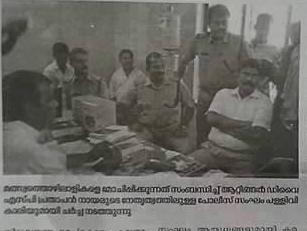 The Hindu fisher youths Prasannan, Sanjayan, Suresh and Baby all hailing from Karunagappilly were attacked and captured. After abducting from mid sea they were hostages in Fathima Mata Church in Thumba in Thiruvananthapuram, and where they were subject to brutalities. They were later rescued by police after hours of negotiation with Church priest!
According to state vice-president of the fishermen's association NP Radhakrishnan, the fishermen were encircled and besieged by a formidable group of Christian fisher-folk, along with those from the clergy sections as well. Sources have indicated that the marauders included fishermen from Christian community and their priestly class, who overpowered the group that went for deep sea fishing. "They were soon overpowered and held hostage for hours together inside the church."
As part of a well framed conspiracy to fortify the southern coastal line of Karunagappilly into a Christian fortress, Hindus are being forced to vacate the area. Hindu fishermen are also being prohibited from venturing out into the seas for fishing. It has also been alleged that all these activities are taking place with the blessings of local church authorities and aimed at conversion of the Hindu population into Christianity. The restrictions have been placed from the area starting from the south of Chavara Neendakara Bridge.
"Anyone makes a breach of this proscriptive order is attacked by violent groups and is made hostage. They are subject to numerous tortures thereafter," say fishermen hailing from the area. The activities are centred around Anchuthengu Church.
State fishermen's associations have alleged that the government instead of taking sound action is now maintaining a passive stand regarding the matter. Southern coastal Karunagappally is a Christian majority area, where restrictive sanctions have been imposed on fisher-folks of other religions from conducting their daily business.
According to state vice-president of the fishermen's association NP Radhakrishnan, has also pointed out that the attackers had flouted law openly and challenged society publicly. "These people should be dealt with severely. But servile attitude of government officials and police officers towards Church is an insult to Kerala society. The lax attitude donned by authorities has turned issues in the coastal line quite apprehensive."
Welcome to Haindava Keralam! Register for Free or Login as a privileged HK member to enjoy auto-approval of your comments and to receive periodic updates.
Latest Articles from Kerala Focus