Scorn – Favorite emotion for Cynical Malayalis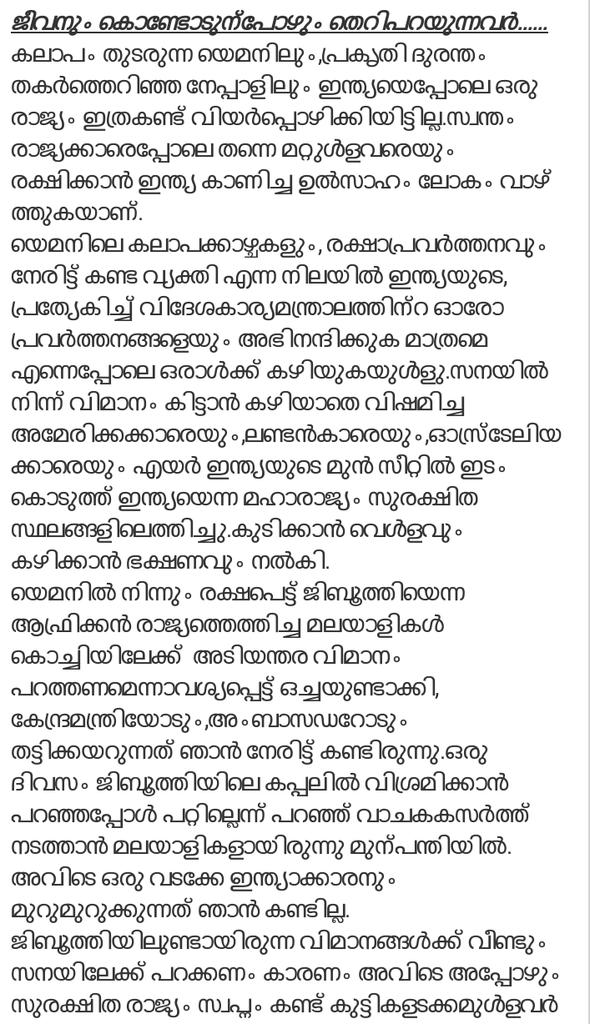 (Following article is based on the Malayalam Blog post by Shri Iype Vallikkadan, TV Journalist – The observations and questions raised by the author is a sad reflection of the Anti National stances of 'Malayali's'
http://vallikadans.blogspot.ae/2015/04/blog-post_28.html?m=1)

No other nation has sweated it out in the rescue arena the way India has, be it the strife torn Yemen and earthquake ravaged Nepal. Rich tributes are flowing in from international shores for the zeal displayed by India in rescuing those of other nationalities too, indiscriminately.
I have been a personal witness to the strife that ripped Yemen apart. I saw with my own eyes the rescue operations executed by India. In this context, a person like me can offer nothing  but commendation for every single move made by India, especially of Ministry of External affairs. The mighty nation named India ensured safety of those harrowed Americans, Londoners and Australians, who were fretting over unavailability of air services to ferry them across to the safety of their nation- that too in the front seat of Air India's sky services, along with food and water.
But Malayalis who reached the African land of Djibouti after having been rescued from Yemen raised a clamour for an emergency flight to Kochi. I even saw with my own eyes, the high-handedness with which they interacted with the Union Minister and Ambassador. When asked to take a day's brief respite in a ship, Malayalis stood in the forefront with ample display of their argumentative prowess, in meanly shoving away the hospitality!
I never even saw a North Indian cribbing!!
The aircrafts that were in Djibouti has to fly back to Sana, because there were still scores there including those with children, who dreamt of safe havens.
Now, if these aircrafts were to make a speedy head way to Kochi, those stranded back in Sana would never be safe there.
And it was the Malayalis, who in spite of knowing every single fact, made an unreasonable clamour for a speedy get way to their doorsteps back home in Kerala.
The scenario in Nepal today is far different from that of Yemen. The earth lay deeply cracked in a split of a second and buildings tumbled down. And the primary endeavour of the task force was to evacuate people from the danger zone, as fast as possible.
And when the Malayalis who had ventured in Nepal for a pleasure trip and got stranded were rescued and brought to Delhi, the Malayali smart-alecks were there too, donning channel microphones in front of them and making denigrating utterances about the entire rescue operation.
The Embassy intervention was sub standard- the very comments made by a Malayali, whose accusatory statements I happened to witness via my own channel.
In fact, while watching the television in Dubai, I had received news of the Embassy official having lost his child in the calamity. And see how marvelously and precisely matters were handled by him, even as he battled his own grief!
Just wondering- what greater security can be arranged for when a natural calamity takes place!
And we, without comprehending the gravity of the situation, are making our own lot an object of ridicule with all these selfish and unwanted opinions that are mouthed.
The rescue operation conducted by India won accolades from all international quarters including Washington Post.
I have not made these observations because BJP is ruling India, nor am I a BJP sympathizer.
But, when noble and competent work is executed, those cynical Malayalis who are adept in making faces should learn to articulate a few syllables of praise as well.
Welcome to Haindava Keralam! Register for Free or Login as a privileged HK member to enjoy auto-approval of your comments and to receive periodic updates.
Latest Articles from Kerala Focus