Outrage over Child's Sexual Abuse inside Theatre, Moideen under Arrest
By
HK
published on May 13, 2018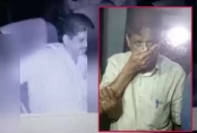 A 50 year old Moideen, has been taken into custody for sexually abusing a 10 year old girl inside a theatre, in Malappuram district. Moideen a business man & former  leader of KMCC, a sister organization of Muslim League in Gulf countries.
In this horrifying incident, which took place on 18 April, the victim was abused for over two and a half hours, with police having hushed up the matter, in spite of Childline allegedly informing them of the same. The incident came to light, when the CCTV footage of the incident was leaked to a leading news channel.
According to CCTV footages, the minor girl arrived at the theatre with an older woman and were seen seated on either side of Moideen, a native of Thrithala. He abused the child for nearly two-and-a-half hours, with the victim's mother who shockingly remaining silent, in spite of being aware of what was happening.
With visuals having been caught on CCTV, theatre owners reportedly informed ChildLine, who then informed the police. However, police remained lax on the matter, with no action ensuing. This forced theatre owners to release the same to media, which forced police into action.
Welcome to Haindava Keralam! Register for Free or Login as a privileged HK member to enjoy auto-approval of your comments and to receive periodic updates.
Latest Articles from Kerala Focus