Kerala's Distressing Floods: Leftist & Jihadis Puke Hatred Venom
published on August 12, 2019
Kerala is undergoing a difficult phase currently, owing to the most inclement weather conditions that has resulted in inundant rains and havocing floods. Making matters worse are landslides that have been triggered by incessant rains. Lives stand perished and hundreds of dwellings destroyed. Affected people in scores have been transferred to relief camps across the state. During such perilous conditions, people from every nook and corner of the country have come forward to pledge support and offer aid to the victims of nature's fury.
Last year too, the state had undergone the very same scenario owing to torrential rains. Perhaps, the death toll, casualties and financial loss has been mammoth, with people being caught totally unawares when the dam gates were opened with no warnings being issued. Result was that rivers which were already in spate ran amok and those residing on river banks never even knew that death had engulfed them.
During this time too, millions from across the country unitedly came forward with a helping hand, to ensure that the victims receive timely help. Not to mention, many states too had proffered immediate aid.
However, during when the floods repeated this time, Left and Jihadi elements spared no efforts trying to propagate their agenda of hatred and deception. Using social media platforms as tools, they began a spree of spewing venom, spite and ungratefulness. For instance, a prominent page on social media platform Facbook that promotes  Communist ideology, under the guise of flood relief, rescue and  helpline, has posted following on their page: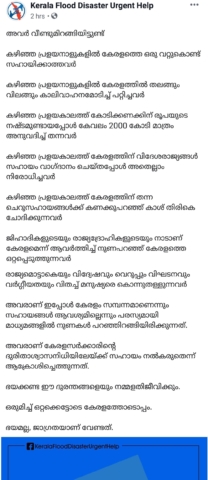 English translation of the post:
They are back again- the same lot who never bothered to extend a helping hand to flood struck Kerala, even with a single morsel of food.
The very same lot who beguiled the people by plying empty vehicles non-stop, across the state, during times of flood.
When the state was flooded, and suffered loss worth crores of rupees, the same lot sanctioned a mere 2000 crore rupees.
They are the very people, who put a halt to the aid promised by other foreign nations, to the flood ravaged Kerala.
These people made accountable, every small aid and help extended during times of flood, and demanded back the unused money.
They have ostracized and isolated Kerala by repeating off and on, the lie about Kerala being the land of Jihadis and anti-nationals.
The lot that has massacred people by unleashing antagonism, hatred, separatism and communalism all over the country.
They are the very same people who now pedal quite openly in media houses, the lie that Kerala is prosperous and that no aid is required.
The same set that come roaring dissuading you from making any monetary contribution to the Kerala government's Disaster Relief Fund.
Fear not- we shall overcome even these disasters.
Together and united- with Kerala.
It isn't fear that is required, but vigilance!
https://www.facebook.com/KeralaFloodDisasterUrgentHelp/photos/a.1997096770348051/2539641109426945/?type=3&theater
Welcome to Haindava Keralam! Register for Free or Login as a privileged HK member to enjoy auto-approval of your comments and to receive periodic updates.
Latest Articles from Kerala Focus