Historic Victory to people of Aranmula
via HK published on May 30, 2015
Pathanamthitta: The clearance sanctioned for Greenfield Airport project in Aranmula by former UPA Ministry has been annulled by Union Ministry for Civil Aviation. The matter has been conveyed to KGS Group.
Hailing the move as a 'historic victory of the masses' chief convenor of Aranmula Paithrukagrama Karma Samiti Kummanam Rajashekharan said that the move was the triumph of the supreme sacrifice showcased by people seeking rights for their land, daily bread, water and livelihood.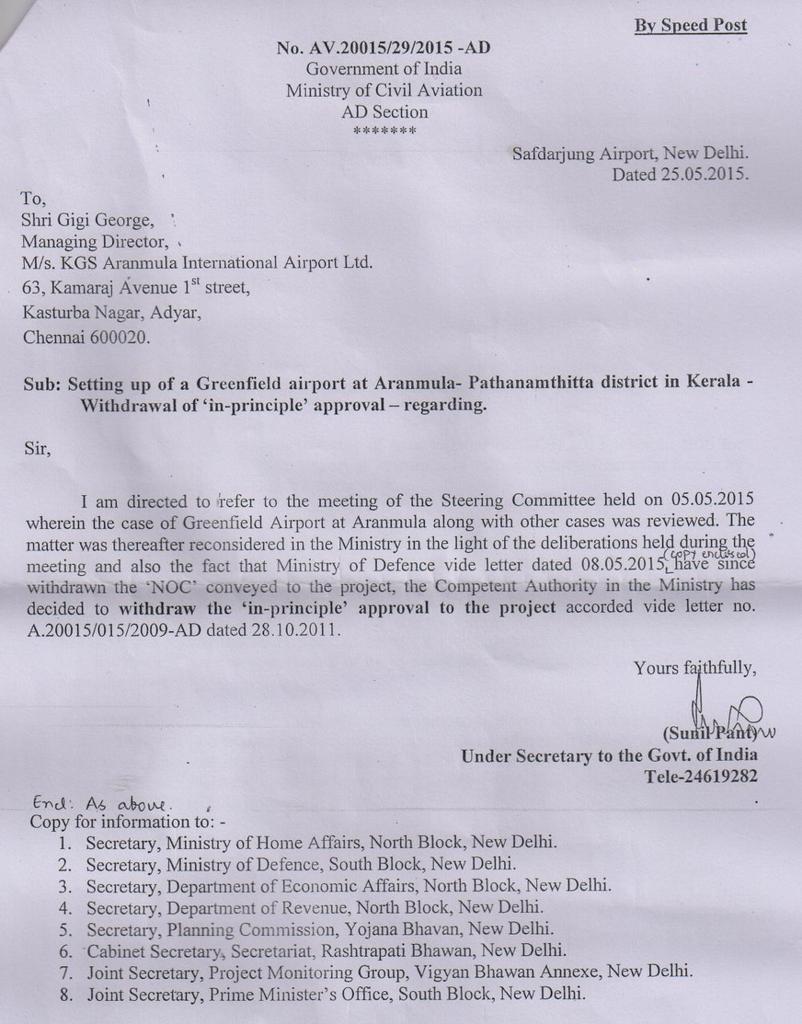 Terming the final cancellation as the last nail on the airport project's coffin, Kummanam pointed out how money and muscle power can never suppress a mass movement spearheaded by people. "Aranmula is the latest example pointing towards this. Kerala state government, big time corporate, land mafia resident MLA, MP and Deputy leader of Rajya Sabha stood hand in glove in unleashing their sway power on common man. Still justice prevailed on common man, after all the sacrifices made, peaceful remonstrations undertaken, safeguarding the land's culture, environment, River Pamba and her Palliyodams. People stood united, overlooking all divisive factors of caste, religion, political and regional differences and forged ahead. We had the most trying times when many of the people here were falsely implicated in cases, where they had to endure limitless tortures. There were people who have languished in prison for weeks, being subject to various brutalities," said Kummanam, addressing the media in Kanjangad.
Offering profuse gratitude to every single person who stood by the entire remonstration, to the Central government for having resolved to take a firm decision and thereafter standing by their statements, and to Aranmula Paithrukagrama Karma Samiti, Kummanam lashed out at KGS Group for deliberately indulging in malicious propaganda.
"They have not yet given up and continue to stick by their arrogance. They went around spreading malicious propaganda about having obtained permission for the airport and about Prime Minister Narendra Modi coming for laying foundation, with the first flight to take off by next year. They must vacate Aranmula," he said.
Exposing the fraudulence of KGS Group, Kummanam said that the company has been indulging in various corrupt activities and financial discrepancies. Seeking the constitution of an expert committee to look into the same, Kummanam stated that Chief Minister Oommen Chandy should stick to his promise of withdrawing the statement declaring Aranmula as industrial zone.
"As many as 48 Revenue Officers were transferred from here for not having stood party to the project. They should be reinstated in their positions. 7 collectors and 5 deputy collectors have also been transferred. The state government should show civility in initiating a probe that will conduct a comprehensive inquiry into the entire matter. The government is yet to implement its own declaration of 232 acres of land in Aranmula as surplus land. This should be distributed to those who are poor and landless," he said.
Exhorting all protest movements in Kerala which is centered around conservation of water-bodies, paddy fields, ponds and hills to take inspiration from Aranmula, Kummanam said the success of Aranmula remonstrations will serve as inspiration to common man to ward land mafia, which had targeted Kuttanad, the grain storehouse and paddy fields of Palakkad, with a well planned hidden agenda. "There is an international conspiracy behind the insistence of having an airport in Aranmula," he concluded.
Welcome to Haindava Keralam! Register for Free or Login as a privileged HK member to enjoy auto-approval of your comments and to receive periodic updates.
Latest Articles from Kerala Focus