Equality does not mean Sameness – A perspective on Sabarimala
Equality does not mean Sameness – A perspective on Sabarimala. On Mahavanmi, let's understand what the 9 forms of the Devi wonderfully captures: the diversity of women. We may have been "othered" in one group historically, but not all women are the same. We don't think the same way, we don't dress, walk or talk the same and we don't share the same aspirations.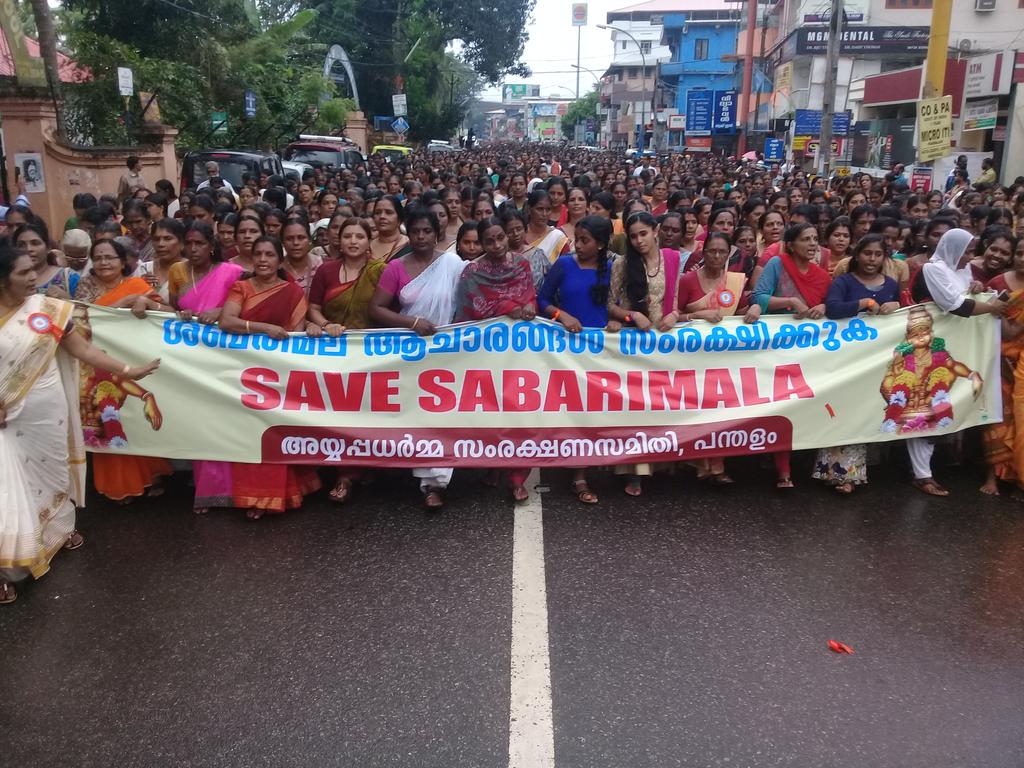 If our backgrounds, hopes, dreams, languages, expressions, bodies and preferences are all different, then how can one feminism define us all? If we insist on boxing women into one monolithic feminism, it is bound to fail many of us as it will devolve into a competition of who can shout louder. This is when privilege steps in. An English-speaking, rich, urbane woman will always have more access to amplify her voice over that of the native-language speaking subaltern. This often leads to "saviour complex".
Well-meaning but privileged women start imagining that they can be the representatives of these native women and they can "uplift" their lives by advocating "change", "reform" and "progress", underlying which is the troubling assumption that natives lack agency. That they are too meek to decide for themselves, and share the aspirations of the progressives. This is exactly what is happening in Sabarimala.
Urban atheist/agnostic women decided that the century-old tradition of Sabarimala, a tribal temple located in the midst of thick Poongavanam forests in Kerala, was patriarchy and they must liberate the female devotees of Ayyappa from its shackles. Thus, came the public interest litigation (PIL), to open the doors of Sabarimala for women of all age-groups. No one asked the women who were most affected, the real women devotees of Lord Ayyappa, from all over India, as to whether they felt oppressed by the restriction.
Mainstream media consistently aired the view of urban feminists, because of their privilege and access. It was shown as a fight between women and patriarchy when it was actually a fight between urban feminists and tradition, ignoring the beliefs of women devotees of Ayyappa. For 12yrs the case continued, and not once did anyone ask the women devotees in their fertile age, if they wanted to enter Sabarimala.
Tired of being overlooked, a social media campaign called #ReadyToWait was started by Malayali women, joined by all Hindu women, in 2016. Yet once again, the opportunity to debate and build consensus was lost as we were immediately dismissed as "sheeple", who have internalized patriarchy. We were showered with abuses by both women and men. On TV channels, we would be branded as "anti-women women", and this labelling continues to this day. Yet, we persisted.
Through People for Dharma, native Malayali women devotees became party to the petition and presented their arguments through young lawyers Sai Deepak and Suvidutt Sundaram. These arguments were not only lauded by the judiciary but found place in the minority judgement of Justice Indu Malhotra, the only woman on the bench, and arguably, the only voice that mattered on a case about women's rights.
Many women are on the streets of Kerala protesting against the judgement and yet, not one person is willing to listen to them. Is the sight of native bare-footed women opposing the entry of women not a wake-up call for the elite of this country, to at least once try to understand their perspective? Even after repeating several times in courts, that Sabarimala does not ban all women, that it has nothing to do with misogyny or menstruation, the same misplaced debate continues in the media.
Welcome to Haindava Keralam! Register for Free or Login as a privileged HK member to enjoy auto-approval of your comments and to receive periodic updates.
Latest Articles from Kerala Focus