CPM attack on famed Jagannatha Temple in Thalassery
via HK published on June 20, 2015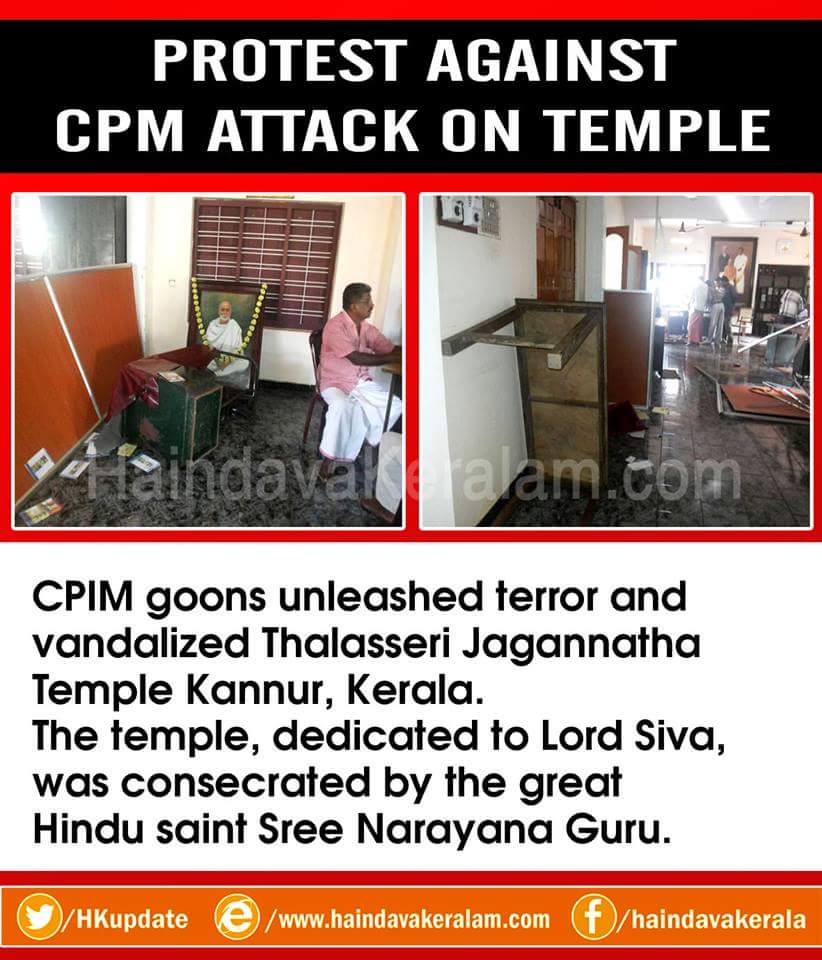 Kannur: With anything Hindu being anathema for Marxist hooligans, their audacity has stooped to new levels, the latest being the unleashing of terror and looting of Lord Jaganatha Temple in Thalassery. The temple, consecrated by Hindu saint Sree Narayana Guru was vandalized by CPM goons. Hindu Aikya Vedi has called for a hartal in Thalassery on Saturday, to protest against the incident.
According to reports, the final day for submitting nominations for temple management committee elections, which is  on 28 June. It was in connection with this that a gang of Marxist marauders barged into the temple office and wrecked havoc there. BJP leader Ajesh was injured in the melee. The hartal will be observed from 6.00 am to 6.00 pm. Vehicles have been exempted from the hartal owing to temple festivities Kottiyur.
Eye witnesses have stated that "the goons headed by local CPM leader Purushu Master, were armed with weapons and armoury and went on a total destruction spree, destroying everything in sight. The gang of marauders included Jihadists like Maufil, a native of Palloor, who had supplied the vandals a cache of bombs and swords, with which they stormed into the temple by around 3.00 pm. The photo of Sree Narayana Guru was completely destroyed."
Sources have reported that the Marixst goons plan to take over temple administration and are being aided in the cause by officers who are currently holding posts in the administration."The High Court had issued stringent orders regarding appointment of fresh members for Jnanodaya Yogam. However, the current administration was giving membership to over 500 persons, breaching the HC directive. And majority of them happen to be Marxists. The Marxist attack comes in lieu of a spate of criticism against the current administration that has been holding administrative reins since 30 years. There have been widespread protests by devotees for not implementing any development or initiating progress related to temple matters," said sources.
 
Welcome to Haindava Keralam! Register for Free or Login as a privileged HK member to enjoy auto-approval of your comments and to receive periodic updates.
Latest Articles from Kerala Focus